M O D E L S : M G F 1 . 6
Seen from a commercial point of view, the launch of the MGF 1.6 was a good thing for MG-Rover and its 'possible' new customers. It lowers the capability to drive a topless MG, combining a low price (£15,500) with low driving costs (UK insurance category 10). The question is, does it drive as good as it sells?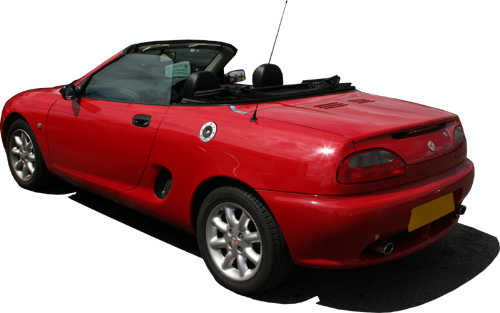 Looking at a group of MGF owners (driving their 1.8s), they are all seeking for more power. Getting in the 1.6 does let you forget that feeling. It's almost back to basics... this car is meant for fun, top down cruising. Looking in the interior can be a bit confusing if you allready have a 1.8, because the door panels are coming from the Mk1, as well as the manual adjustable mirrors, but the centre console, steering wheel and dashboard are typical Mk2. Knowing that, let's have alook at the exterior... looks like a 1.8 to you. Well almost, this one has black wing mirror backs, black grills (different from an Mk2, identical to an Mk1) and black side vent surrounds.
Starting this little one makes a different, it's almost like I am missing the engine. Maybe that's because my 1.8 has a K&N and sports exhaust, but I am almost sure that this engine is a bit quieter. Driving around makes my thoughts stronger, this engine is made for cruising. The 1.8 is more noticable than this engine, and it likes to be shifted to a higher gear before the needle touches 5000rpm. This top-selling K-series engine is in that way completely different from the VVC and MPi engine. The first one (VVC) loves to be quicked to the rev-limiter, while the MPi prefers a 6500rpm before changing gears.
When cruising around, you will enjoy the stereo... if you fit one yourself, beacuse that's a rather expensive option (well low spec unit, for rather much money). Talking about options and no options, full or half leather interior is an option for a 1.8, not for these 1.6s.