M O D E L S: MGF LE 75th Anniversary
To celebrate the 75th anniversary of MG (1924-1999), Rover at that time being a part of the BMW-group, decided to release a special and limited version of the MGF Mk1. All vehicles are numbered (from 1 to 2000) and a certificate to prove its uniqueness comes with the sale. Allthough this is a limited version, it is very often seen on MG events across the continent.
The LE75 came into three colours, being Mulberry, Black and Platinum Silver. To be more precise, the silver version wasn't available on for the UK market, but they got the Mulberry version instead. The hood is always grenadine, an option that wasn't available on those days.
The finisher of the rear bulkhead, better knwon as the T-bar has been slightly modified to house the numbered badge. Partnumber of this T-bar is EQY100730LNF instead of EQY100630LNF for a standard Mk1 (ash grey, no speakers).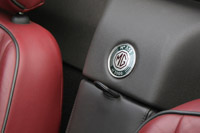 On both front side panels, there's an additional badge under the side indicators, showing the octagon and the years 1924 and 1999. The badge has partnumber DAG100420.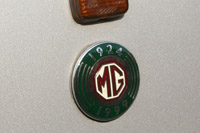 Further on it could be said that this car has all the options that were possible in those days.... or at least 90% of the full set of options.
- 3rd brake light
- full chrome mesh kit and chrome-look doorhandles
- 16" cup/abingdon wheels on the continent / 16" multispokes in the UK
- grenadine leather interior (seats, handbrake and geargaitor, steering wheel and door pods)
- chrome ashtray, handbrake button
- wood/venier mid console and airinlet bezels
- grenadine softtop
- badge on front side panels and on the T-bar