M O D E L S : MGTF - Limited Edition: 80th Anniversary
UPDATE -- January 22nd 2003: Even more official ;o) Press Release from the UK on this page with more (nice) quality pictures
UPDATE -- January 14th 2003: It's official now. Just before the weekend some newspapers came with a leaflet showing the silver TF 80th Anniversary and the official website are mentioning the new version. Today I went to the Brussels Motorshow and found a fabulous Pearl Black TF, number 20 of the Limited Edition of 80 years MG. It is indeed a limited edition with a maximum production number of 1600 units; 100 of them will be delivered to Belgium. As silver is still a popular color, even for the TF, 60 of them will be Starlight Silver, while the 40 others will be Pearl Black. Unfortunatly all of the Belgian LE's will be TF135's, a decision I could understand.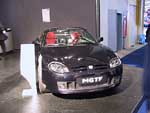 1 of the 40 Black Pearl TF's, here presented at the Brussels Motorshow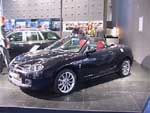 Front foggies are standard on this Limited Edition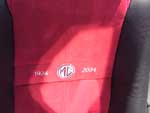 Nice Alcantara seats with an embroidered logo on the back of the seats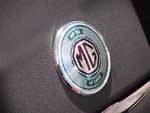 Special badge mounted on the bulkhead let you remind the individual number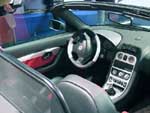 The alloy finish is part of the Bright Pack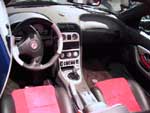 The LE 75th version came with wood, this one with alloy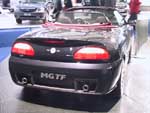 The well known rear of a TF, but this one comes with a special logo . . .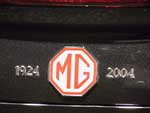 . . . here it is.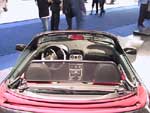 Windstop is included in the whole package of the LE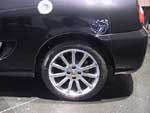 Sports Pack 4 or with other words, nice set of 16" alloys and impressive brakes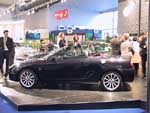 Side view of the car.... it is really an eye catching car on the motorshow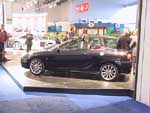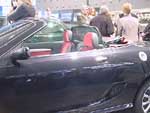 Nice combination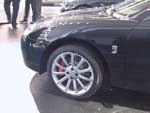 The "Shadow Chrome Finish" wheels with the impressive brakes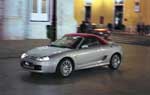 Official Picture: Starlight Silver LE 80th Anniversary (the motion blur is intended ;o)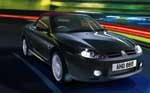 Official Picture: Pearl Black LE 80th Anniversary at night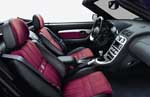 Official Picture: Classy interior
Price (VAT included) here in Belgium: € 25.500 (or an reduction of € 4.585)
ORIGINAL MESSAGE -- I am writing Thursday 28th of October 2003 in my agenda, while I am receiving a message about a limited edition for the MGTF. It is unofficial, not seen on the MG Rover media or other website.... but I know there will be a TF LE 80th Anniversary at the Brussels Motorshow in January 2004.
Specification
Exterior colours:
- Pearl Black (new)
- Starlight Silver
Red hood (new)
Ash grey interior
Grenadine and black Alcantara pack (as a current option, but now with an embroidered logo on the seats)
Bright insert on the console
Bright gear knob
Bright handbrake grip
Bright/black leather steering wheel
Windstop
Bright pack
CD Tuner
Sports Pack 4 (inc. ABS) (As current Sports Pack 2, but with Shadow Chrome finish for the 11-spoke wheels)
Front fog lamps
Badge in rear bulkhead, including the individual serial number
Exterior badges for the 80th Anniversary
Options
Radio blanking plate
Delete of the side flag badges
Air conditioning
Passenger airbag
Hardtop black
Hardtop white
Hardtop body colour
Volumetric alarm (STANDARD)
Alloy spare
Sports Pack 1
Hood cover