M O D E L S : MGTF - Limited Edition: 85th Anniversary
All MG enthusiasts were expecting it, as we still remember the MGF LE 75th Anniversary and the TF LE 80th Anniversary celebrating 75 years MG in 1999 and 80 years MG in 2004. This year (2009), allthough a bit quiet, we were remembring 85 years MG. To be honoust, the prototype looked horrible, but promised something different. The result, a production car, was shown to the public on April 25th, 2009 at the MG Heritage Festival. Not too many details available at that time, as production still needed to be started for these cars.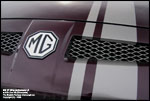 I saw the car for the first time (real life) at the MGCC event at Silverstone. Officially MG Motors UK didn't have a stand at this show/event, allthough they had during previous events. A bit strange, as I hoped to see the new cars again. I was more than happy when I received the news that Ian Pogson (MG Motors UK) had arrived with two new TF's, one of them being the Anniversary edition.
The colour, Intense Cassis, is very rich and goes perfectly well with the stripes and livery. Sporty, stylish and somehow classy all nicely together. Some may call it cheap, but I was really adoring the car. The dark coloured 'Twist of Pepper' alloys do grow on you and look better in real life than on pictures. Besides Intense Cassis, two other 85th Anniversary exclusive colours are available: Ice White and Enigmatic Silver.
The LE85th gets a vinyl striping and TF85 graphics on the doors and rear. Also the alloy door sill finishers and gear knob are TF85 branded.
The number of cars is limited to 50, including 2 demo and press cars: 17 Ice White, 17 Enigmatic Silver and 16 Intense Casis.
Maybe the most important change isn't visible: the uprated suspension has now gas filled mono-tube Bilstein shocks and the uprated Eibach Sports anti-roll bar set. The road handling must be the best you can get on an F/TF. It is phenomenal.
Pictures from MG-Live '09 (Silverstone)
Pictures from MGFIM09 (The Netherlands)
The brochure
The Press
The offical MG Motor UK website features an article from a journalist testing the LE85th.