M O D E L S : MG TF200 HPD
The official press release: Mira and MG debut Hybrid performance development at Clean Racing Conference
The Hybrid powered MG TF 200 HPD features a combined output of 200PS deployed through its four road wheels. MIRA's engineers in consultation with MG Rover Group have produced the "200 HPD" specification derived from the popular MG TF sports car, producing functional and environmental benefits with a wider performance capability potential for motorsport.
John Wood said, "We conceived the idea to produce an enhanced performance car that anticipated environmental requirements, while expanding today's car driving experience. The car achieves this with 'responsible performance' where the innovative hybrid solution sharpened acceleration (!) at no expense in tailpipe emissions, yet also offers customer benefits like all-wheel traction and the low-speed clutchless operation of '"City Mode'."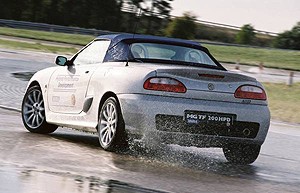 Technical Specifications
- K series 160PS 1.8litre VVC petrol engine driving rear wheels
- 40Ps high output electric motor driving front wheels through CVT drive train.
- Engine-driven generator
- Hawker SBS* battery pack delivers 72v at 400amps
- BRUSA BRMD 506 motor controller
- Mathwork XPC vehicle management
- Aerodynamic Cd 0.32, zero front and rear lift
- 50/50 weight distribution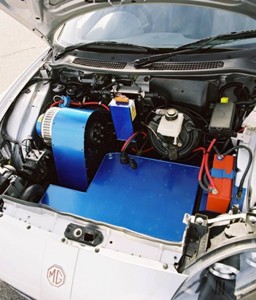 Performance Summary
- Sprint power increased from 160-200PS
- 0-60mph time improved from 6.9 to sub 6 seconds
- All wheel drive traction, maximum tractive effort and "low mu" handling
- Hotshift delivered continuous power through front wheels during gear changes.
- "City mode" feature enables relaxed urban motoring using electric front drivetrain.
What has been changed on the outside ?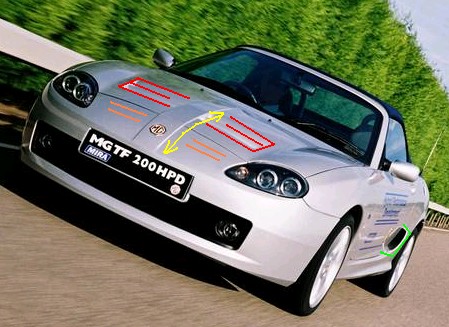 yellow: Although the new bonnet looks fantastic (for the 500 Extreme fans) fitting it to an ordinairy F or TF isn't that easy as the lines starting at the new front bumper will go up into the lines of the bonnet.
orange: Some openings are missing... nothing new as we (some enthusiasts on the internet) suggested to go this way on January 12th 2002 (see here)
red: Yes, cooling through the front bonnet... this will look sooo cool ;o)
green: definetly an add-on, a scoop at the side air inlet to increase the ram air effect. Not really well done IMO, and I guess some improvement on this could be made before the car will go into production (if the car goes into production).