M O D E L S : T h e M G F M k I I
The MkII or the second version of the popular MGF came on the market while BMW was still 'running' the Rover company. In that, rather dark period, not much money was put in the review of the F. Some minor changes must revive the sales figures, without being a direct oponent of the Z3.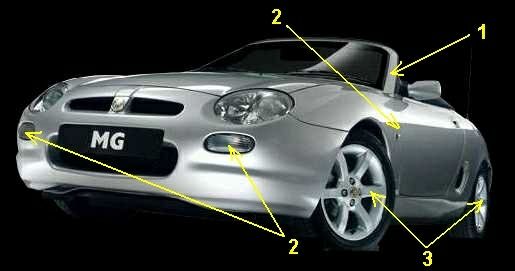 From the outside, someone who knows a thing 'bout F's can see the difference between both models.
1) The windscreen surround is painted in the colour of the body, before it was shiny black.
2) Front and side indicators are clear or smoked, before they were amber coloured *
3) New alloys for 1.8MPi and VVC were launched.
* changing to clear/smoked indicators is a popular upgrade for MkI-owners.
The interior is dramatically changed, maybe because owners and possible owners weren't that happy with the plastic-ish MkI interior. The inserts in the door are now in two pieces, one of the pieces is available with an alloy look. An alloy surrond can be found around the gearstick. The console looks completely different, as do the dials. On the MkI, the dials were creamy and stylish, now the are silver and with a digital part. Mirrors are electrical adjustable and the steering wheel's height is adjustable as well, something that wasn't seen on the MGF MkI.
SPECIFICATIONS (Manufacturer's Data).
| | | | | | |
| --- | --- | --- | --- | --- | --- |
| P e r f o r m a n c e | 1.6 i | 1.8 i | 1.8 i Stepspeed | 1.8i VVC | Trophy160SE |
| Maximum Power | 112Ps (EEC) @ 6250 rpm | 120Ps (EEC) @ 5500 rpm | 120Ps (EEC) @ 5500 rpm | 145Ps (EEC) @ 7000 rpm | 160Ps (EEC) @ 7000 rpm |
| Maximum Torque | 145Nm (EEC) @ 4700 rpm | 165Nm (EEC) @ 3000 rpm | 165Nm (EEC) @ 3000 rpm | 174Nm (EEC) @ 4500 rpm | 174Nm (EEC) @ 4500 rpm |
| Maximum Speed | 116 mph | 120 mph | 118 mph | 130 mph | 137 mph |
| 0-60 mph | 9.3 secs | 8.5 secs | 9.5 secs | 7.2 secs | 6.9 secs |
| 30-50 mph | 8.3 secs | 6.8 secs | - | 6.5 secs | 6.4 secs |
| 50-70 mph | 9.0 secs | 7.2 secs | | 6.9 secs | 6.6 secs |
| F u e l E c o n o m y | 1.6 i | 1.8 i | 1.8 i Stepspeed | 1.8i VVC | Trophy 160SE |
| Urban ( Imp. mpg / litres'100km) | 28.2 / 10.1 | 26.2 / 10.8 | 23.4 / 12.1 | 25.0 / 11.3 | 25.2 / 11.2 |
| Extra Urban (Imp. mpg / litres'100km) | 48.6 / 5.8 | 49.0 / 5.8 | 42.6 / 6.6 | 47.6 / 5.9 | 48.8 / 5.8 |
| Combined (Imp. mpg / litres'100km) | 38.4 / 7.4 | 37.1 / 7.6 | 32.8 / 8.6 | 35.7 / 7.9 | 36.3 / 7.8 |
| CO2 | 177 | 182 | 206 | 189 | 190 |
AVAILABLE COLOR OPTIONS
- Old English White
- Anthracite
- Tahiti Blue
- Solar Red
- Alumina Green
- Sienna Gold
- British Racing Green
- Nightfire Red
- Platinum Silver