M O D E L S : MGF - Limited Edition: Trophy 160
PRESS RELEASE
Embargoed until
13.00 hours GMT, Tuesday 30 January 2001
NEW ROADSTERS LEAD MG'S 2001 PRODUCT ROLL-OUT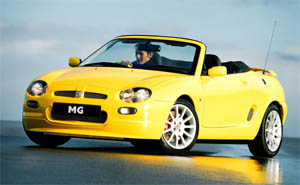 As the brand icon for MG, the mid-engined MGF roadster leads the exciting MG 2001 model programme with two new versions, which expand its market coverage at both ends of its range.
Lifting the MGF to a new level of performance is the MGF Trophy 160 Special Edition, with a specification derived from extensive racetrack action around the world. A tuned version of the advanced K Series 1.8-litre VVC engine with a wide-bore sports exhaust system develops 160PS – over 10% more power than the already potent 145PS of the standard 1.8 VVC model.
Handling and braking capabilities have been upgraded in line with the greater performance. The Hydragas interconnected suspension has competition-based spring and damper rates and a 20mm lower ride height, while the front brakes are new AP Racing units with 304mm ventilated discs and red-finished, MG-branded aluminium calipers.
A new 16-inch multi-spoke alloy wheel design is standard, with the special option of ultra lightweight forged and spun 16-inch alloy wheels. At the front the MGF Trophy features a new bib spoiler and a rear deck spoiler has been added; these combine with the lower stance to reduce aerodynamic drag and lift, enhancing performance and stability. Top speed of the Trophy 160 SE is close to 140mph and it can accelerate from 0-60mph in under 7.0 seconds.
To complement the racecar presence of the Trophy 160 there are four striking paint colours – Trophy Yellow and Trophy Blue (both created for the model), Solar Red and the popular Anthracite metallic black. Other distinguishing features includebright mesh grilles for the front and side air intakes and black bezels around the headlamp reflectors.
Inside the Trophy there are new body-colour inserts in the door casings and the centre console, sections of the leather steering wheel trim also colour-keyed to the body, a special leather/fabric seat treatment with 'Trophy 160' badging, and an alloy/leather gear knob.
UK market versions of the MGF Trophy 160 SE go on sale in early spring 2001 at a price of £20,995 OTR. (The standard MGF 1.8i VVC is £19,495.) It will be made available in selected export markets later in the year.
The marketing role of the MGF Trophy 160 SE is to provide another logical step up the MGF range for those seeking extra performance and specification. It strongly reflects the increased emphasis on MG's motorsport involvement within the new MG brand strategy, and adds serious, hard-edged driving enjoyment to the established MGF values of fun and practicality.
GENEVA MOTORSHOW 2001
The MGF Trophy was presented to the public during the Geneva Motorshow in 2001. As I was in the neighbourhood and drove a couple of 100km's to shoot the first pictures of this new MGF. We (the MGF scene) didn't expected it, but MG Rover prsented a more powerfull version of it's MGF. There was more than just more power under the bonnet; handling and braking was improved too. Even the look of the car was sportier than ever. The MG technicians and architects must have been reading the bulletin boards, as this F comes with painted reflectors and bether breathing. Both things are not unfamiliar for the MGF modding scene (dropping the airbox and resonatorbox in favor of a K&N airfilter). Anyway, the Trophy Yellow Trophy looked awesome.
The pictures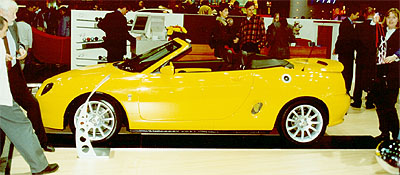 Trophy Yellow... also available in Trophy Blue, Solar Red and
Anthracite metallic black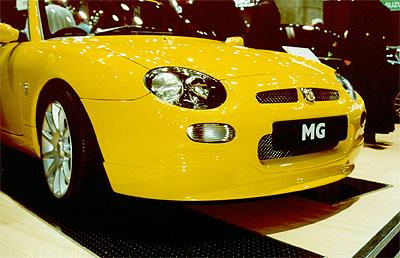 Painted reflectors... not colourcoded, but glossy black.
Improved aerodynamics with a front lip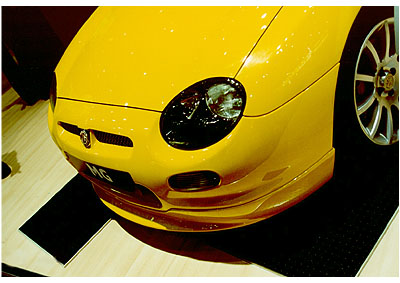 Very nice.....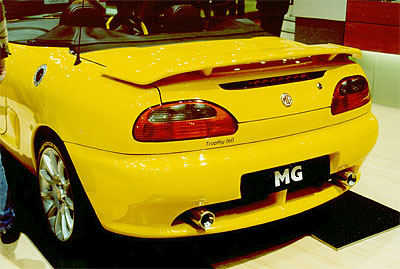 At the rear: new exhaust, Trophy 160 badge and a new spoiler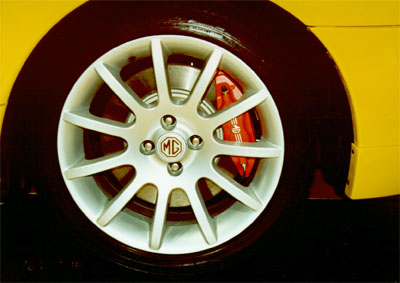 Brakes at the front: nice red 4-pot calliper from AP Racing requires
a new designed alloy as the hosted disk measures 304mm.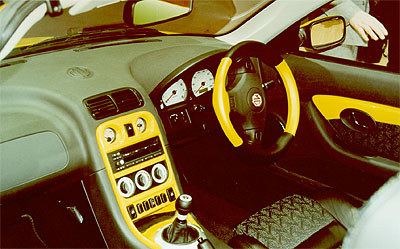 Many things have been said about the Trophy's interior.... i'll keep it
by it's colorfull ;o)
SPECIFICATIONS
Engine: in-line 4 cyl. 1796cc, 16V, also known as the VVC
Max. Power: 158bhp @ 7000rpm
Max. Torque: 128lb ft @ 4500rpm
0-60mph: 6.9secs (claimed)
Top speed: 137mph (claimed)
Price (UK): £20.995
PARTS
Which parts are involved in changing an MGF into a Trophy 160 ?
Rover fitted a special head and a matched VVC inlet, and changed/added the follwoing parts:.
One interesting point has arisen is that the internal disturbances within Rover at the time of the 2000MY car launch was clearly not fully documented and as a result the latest parts slides refer to all the parts changes applicable to this change as 'APPROX VIN XD511059'. This clearly means that cars before and after what has to now been regarded as the change point may well have 'odd' parts fitted. An example is a neibours 'W' registered MGF which has orange indicators front and side.
Engine
There is no difference between the normal VVC engine and the Throphy spec.
Fuel and Exhaust
Air cleaner assembly is specific to Trophy only. different parts are as follows...
PHB 000230 - air filter assembly (Same element as VVC)
PHD 000380 - air pipe from cleaner to throttle
PHU 000170 - air cleaner mounting bracket
The inference here is a modified air cleaner with larger bore air feed. Note the resonator and cold air pick up are not showing changes against current cars, but there have been recent changes compared to older cars.
Exhaust Manifold has changed for all ECD3 compliant cars including all the Rover saloons and is a common item. I do not know where the differences lie between this and the older manifold.
Two exhaust differences are found with the Trophy...
GEX 33778 - exhaust downpipe to cat
GEX 33779 - rear assembly (the main exhaust from cat)
The same standard cat is retained as all other cars.
The clear inference is that the extra power for the Trophy comes from just air filter and exhaust mods - much as many VVC owners have already done to similar (or better) effect.
The alloy throttle body of the Trophy is not specifically listed as all Manual cars still have a part listing shown as a plastic body (MHB 102071) however the throttle body for automatic cars is shown as MHB 102140, and there is no reference to this being plastic. (see section Throttlebodies)
Also all ECD3 compliant cars (2001 on, On Board Diagnostics cars) have both pre and post oxygen sensors in the exhaust so those who cling to the belief that cat removal is worth while will have their desires canned since removal of the cat will stop the engine working properly and drop the engine managment into a failsafe reduced power mode. (The VIN where ECD3 starts is 522573)
Side note - Recent mention of cars having problems with poor running that has been found to be the coolant temp sensor for the engine managment is interesting as a new sensor with a blue plastic moulding (The original brown coolant temp sensor is GTR 206 and applies to all cars up to VIN 522572 and is still a current part) has now superceded previous sensors - GTR 240.
Cooling
The engine bay cooling fan is different from all other manual cars. It is shared with the automatic cars (Stepspeed or Steptronic as it was previously called) which indicates that it is able to move more air. (Auto cars will hold higher rpms and as such should generate higher engine bay temps, especially in urbal conditions.)
PGG 000010 - engine bay cooling fan
Suspension
Changes common to front and rear...
GSV 1225 - Knuckles (lowered, four required)
RZR 000010 - displacer springs (one per displacer)
Front only
RNK 000010 - Displacer, one per side!
RNP 000060 - connection pipe to right hand displacer
RNP 000070 - connection pipe to left hand displacer
RBJ 000220 - Right hand lower suspension arm
RBJ 000230 - Left hand lower suspension arm
Rear only...
RPJ 000010 - Displacer, one per side
RNV 000020 - bump stop, one per side
Interesting to see the front lower arms are different, yet the replaceable parts, such as the bushes and ball joint are common across the whole range.
RNP 000100 - connection pipe to right hand displacer
RNP 000110 - connection pipe to left hand displacer
These rear pipes connect to the front via a common centre section which remains common to all cars
Wheels
RRC 110460MNH - Trophy wheel 7x16
DTC 000050MNH - wheel centre (one per wheel)
RRC 001720EYP - Optional space saver wheel - steel
IMS Puncture repair system
KFE 000010 - puncture repair kit (all parts)
RRO 100000 - sealant (part of KFE 000010)
KFJ 000010 - Tyre valve core (part of KFE 000010)
KFK 000010 - IMS label for tyre (part of KFE 000010)
FFH 000010 - housing for this kit to sit in the car
The steel spare is large enough to fit over the 304mm front brakes but it's size is not listed and neither is the tyre size.
Brakes
RFB 000020 - right hand front hub
RFB 000030 - left hand front hub
RUB 000140 - right hand front drive flange
RUB 000150 - left hand front drive flange
GBD 90850 - front disc (304mm)
GBC 90206 - left hand front caliper
GBC 90207 - right hand front caliper
GRK 905028 - caliper repair kit (one per caliper)
GBP 90345AF - front brake pads
Flexible pipe feeds to the front calipers are the same and the rear brakes show no changes. It is interesting to note that the front hub changes list them a 'Trophy Anti Lock braking'.
The early Trophy's came without ABS (Antilock Braking System), but soon, in time for delivery to the continent, ABS was added and I guess thatb this came together with a change of the brake bias valve.
Chassis
AAB 460060A - bodyshell, specific to Trophy
BMD 4600050 - bootlid
DFD 000080LML - rear spolier (in primer)
ESR 1650 - nut and bolt kit for spoiler
There is no listing for the front spoiler.
The parts slides note that the subframe to body mountings are specific to the trophy, but doesn't list them.
The bodyshell shows some changes to the front side member assemblies, but these are commonised for all ECD3 cars from VIN 522574. Quite where the differences in the shell are is therefore not clear, but may involve additional welding and other structural additions in the actual assembly process rather than changes of parts used.
Electrical
XBC 000520 - Right headlamp, right hand drive
XBC 000530 - Left headlamp, right hand drive
XBC 000540 - Right headlamp, left and drive
XBC 000550 - Left headlamp, left hand drive
Odds and ends
DAH 000060 - 'Trophy 160' rear badge
AWZ 000040FAR - Can of spray paint, Trophy Yellow
AWZ 000030JFV - Can of spray paint, Trophy Blue
AWZ 000070FAR - Paint pencil, Trophy Yellow
AWZ 000060JFV - Paint pencil, Trophy Blue
Credits go to Roger Parker who posted this usefull info on the Bulletin Board.
THE BROCHURE
I've added some scanned pics from the official MGF Trophy leaflet/brochure.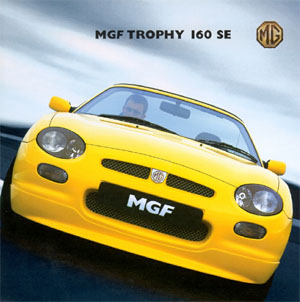 The cover.... IMHO a very attractive picture
(click to download larger image)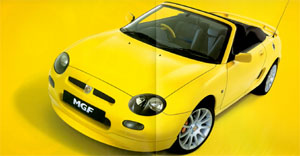 It's a bit yellow.... (click to enlarge)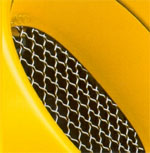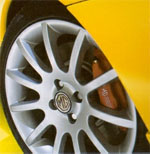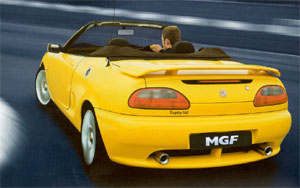 Trophy in action (click to enlarge)
If you require more info/pictures of the brochure, please drop me a line at webmaster@mgtf.be.
MGF TROPHY FEATURED IN EVO MAGAZINE
For those who doesn't like the yellow colour, the power machine is also available in blue.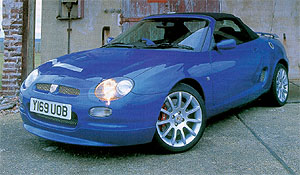 (click to enlarge)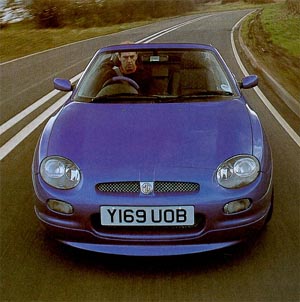 (click to enlarge)
Evo: "The MGF Trophy has to be one of the quickest cars to blat down a B-road"
Completely different, but still sporty look of the blue MGF Trophy.
(pictures Evo May 2001)
LIMITED EDITION
The Netherlands - 55 Trophy's imported

Belgium - 24 Trophy's imported