M O D E L S : ZED-Cars - MG X15 back to the Zed car section
As a top-down driver I must admit that I wasn't really aware of the existence of a speed record for estate cars. MG-Rover and more particular Phoenix Consortium deputy chairman Nick Stephenson and MG Rover design director Peter Stevens, wanted to break this record in the same time period of the launch of the V8 powered ZT and ZT-T. The X-15, based on the ZT-T and 765bhp strong joined the Bonneville Speed Week. When MG had pounded the salt in the 1950s, it had done so with custom-built machines such as the famous Gardner Special - based on pre-war EX135 - as well as the newer EX179 and EX181. These demonstrated the strengths of the MG engine range but had scant the connection to the average showroom stock MG.
The motive force is an unblown 765bhp six-litre Roush Industries Ford-based V8 push-rod engine.
As driving at a high speed on a salt surface is something differnt, a lot of precautions must be made. Fast accelerations with wheel spin isn't the way to go.... cars are pushed by a truck to a certain speed. The following miles they will gradually increase their speed, watching out not to cause a spin on the salt. Before a car can participate on the long course, it must reach at least 185mph on a shorter course. After this qualifying session, speeds will be measured after 3, 4 and 5 miles and at the 'finish line' on the long course. A further 2 miles are available to stop the car. Cars must be equiped with braking parachutes, using the brakes is something you do when the speedo reaches the 100mph or less.
The X-15 made a 203mph during qualifying on the short course. The long course was good for a blistering 223mph. Some minor altitude tweaking saw X-15 make a final run at 225.609mph.
Note: In 1959 Phill Hill drove the EX181 as the fastest MG ever, 257mph.
G a l l e r y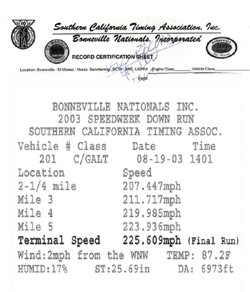 World's Fastest estate car on display during the AutoRAI 2005 (The Netherlands)