M E E T I N G : K e m p e n r i t 2 0 0 3 ( B e l g i u m )
It's been over again, and it must be said... like the Kempenrit's tradition, it was overwhelming hot. The success wasn't as big as last year's edition, but taking in account the other date (earlier in the vacation period) and together with another MG happening (less famous ;o) in Belgium. So what could be found on the parking place:
- 120 MGs:
- 68 x MGF
- 19 x MGTF
- 2 x MGZT
- 1 x MGZT-T
- 1 x MGTC
- 3 x MGTD
- 3 x MGA
- 22 x MGB
- 1 x Midget
How it looked like at 07:30 AM ..... better not showing how we looked like (as some of us needed to get up at 05:00 AM)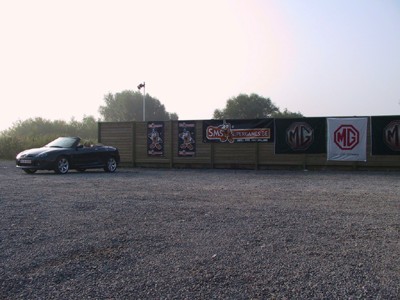 Getting everything organised and lining up for a group picture (it's a bit later and we are eager to start)
In the morning
The MGF's
The MGTF's (incl. The Elegance version), definetly a growing group.
The MGZT-T (ahhh.... airco, steel roof, closed windows... life is cool)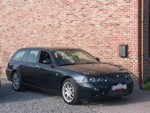 Line up's at the parking place
Charming parking place for the oldies
At the practical test
Allthough I thought it would be rather easy, some had a really hard time... and we were impressed by the passion that was showed to find the correct answers.
Answers:
1 = Exhaust manifold with oxygen sensor/lambda sensor
2 = Throttle body (older plastic version) with throttle positioning sensor
3 = Gear selector unit
4 = Ingnition coil from an MPi (Dutch: Bobine, spoel)
Fabrice, checking that all the parts belong to an MGF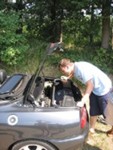 Additional car alarm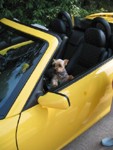 Nice, very clean MGA
Other examples of the rich MG history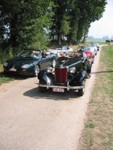 The story of the flat tyre
On the tour
Back from the trip
I can't get enough of the group pictures
Try to find your car on these individual pictures, starting with a set of MGF's
And continuing with the TF's
And the oldies....
Chatting people everywhere
For those calling 'collecting LE data' a sport
The "showcars" ready to welcome the people around the podium
Time to distribute the prices (total value: > € 2,500)