M E E T I N G : K e m p e n r i t 2 0 0 5 ( B e l g i u m )
This year we will be celebrating the 5th anniversary of this event, but there is more. During 2005 we have all the reasons to be happy, 'cause the MGF is 10 years alive and kicking. Yes it doesn't seem that long, but the MGF was launched on the Geneva Motorshow in 1995 and so we are preparing something to turn this MGF Kempenrit into something special.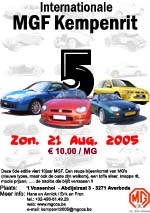 The MGF Kempenrit Flyer
getting more famous every year
During the years the MGF Kempenrit has turned into a well known event for modern ans classic MG's. Thanks to the great weather during all previous events, the number of MG's participating is huge for a continental one-day event. It's success has made the Kempenrit into an International MGF Kempenrit as many teams are coming from the Netherlands, France, Germlany and Luxembourg. Even some cars from the United Kingdom were ther during last year event.
This year we, the proud organisers, may welcome the mgcars.org MGF Bulletin Board Treffen. This yearly tour, professionaly organised by Ted Newman and often featured on this website, is coming from the UK and will be visiting Germany. Last year they almost visited the MGF Kempenrit, but their visit to the Nürnburg Ring Nordschlieffe decided not to. The good news is, this year the MGF Kempenrit is on their agenda, so they will be participating !!
This years International MGF Kempenrit 2005 starting point:
't Vossehol
Abdijstraat 3
Averbode
Belgium
We have a large and F/TF-minded (read: flat) parking place were you will be welcomed by the typical Kempenrit staff (dressed in a yellow T-shirt). Park your car, following the directions of the staff; I promise you, it will turn out for the best photo shooting.
Afterwards get your subscription and Touring package at the entrance and start socialising. I know that some people are participating for the morning on the parking spot. They meet old friends and make new ones, wonder over all the different types of F and TF 'till there's the time for departure.
Everyone is allowed to start driving and enjoying the scenery when they like. There's no time limit and everyone drives, alone or in group, they way they enjoy the most (keeping the traffic rules in mind).
Arrival is scheduled before 05:00PM at:
De Pergola
Kesselsesteenweg
Lier
Belgium
The starting location:
Location of the small city Averbode in Belgium. Averbode, known for its abbey, is located in the Flemish region between Antwerp, Brussels and Hasselt.
Coming from Antwerp, on the E313, you will take the exit for Laakdal, continue travelling to Vorst and Veerle.
When coming from Brussels, on the E314 you will take the exit to Aarschot and continue your journey for Zichem and Averbode.
Once you are near the abbey and in the street called 'Abdijstraat', turn into a small street (with a couple of nasty speedbumps) and continue for a couple of hundred meters where you will find a parking place.
Distances from several locations:
| | | |
| --- | --- | --- |
| Location | Distance to Averbode | Microsoft Mappoint image |
| Belgium - Aarschot | 12km | |
| Belgium - Antwerpen | 50km | |
| Belgium - Brussel/Brouxelles | 59km | |
| Belgium - Hasselt | 43km | |
| Belgium - Gent | 115km | |
| Belgium - Kortrijk | 150km | |
| Belgium - Luik | 85km | |
| Belgium - Mechelen | 42km | |
| France - Paris | 350km | |
| Germany - Frankfurt | 350km | |
| Germany - Köln | 165km | |
| Luxembourg - Luxembourg | 250km | |
| The Netherlands - Breda | 102km | |
| The Netherlands - Tilburg | 98km | |
| The Netherlands - Utrecht | 173km | |
The event:
Price: € 10.00 / car and free for members of the MG Car Club Antwerp
Tour: You will receive a very clear and easy roadbook for a tulip rally of aprox. 100kms. In the roadbook you will find some questions. We are also thinking about a practical test... but don't worry it will be fun.
Start: somewhere between 10:00 and 12:00 AM
Arrival: if possible before 05:00 PM as there a small ceremonial and a lot of prices for the winners of this event at 05:00 PM
Afterwards:
There's a typical Belgian dinner for € 10.00 / person at the arrival. Reservation in the morning, during your subscription for the event is wishfull and helps us a lot to get everything arranged.
Keywords:
Social, well organised, nice scenery, many MG's, big fun, enjoying they way of living, great prices, good food, better beer.
Organisers:
Hans Belles, Annick Tonel, Erik Baekelant, Fran Boeykens -- kempenrit2005@mgcarclubantwerp.be