M E E T I N G : M G F e s t 0 7
After th wonderfull meeting called MGF10, celebrating the MGF tenth anniversary, the MGF scene was eager to throw a party for the fifth anniversary of the TF. Even more, the MGF Register decided to organise such a big event every year..... every year we have something to celebrate, so why wouldn't we get together and have some fun.
The name became MGFest, followed by the year.
So this year we had the first issue of MGFest which was held at the Billing Aquadrome. A great event, which needs to be written down in your agenda for next year.... in bold, and just a bit larger than the Silverstone event.
The mgf.be group travelled together and took the Eurotunnel on Friday
Saturday, August 4th 2007
Scarlet Fever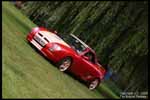 Start of the Road Run
Master of ceremony: Tim Morris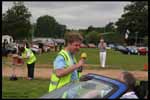 The new TF
NOS in Deb's TF160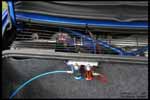 One Hot MGF
Gerry H. arriving with his MGH, better known as Golden Wheels
Random cars, inlcuding ours
MG ZR
Aimée from Mike Satur's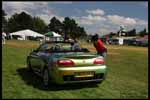 Adrian's As Good As Gold got a new softtop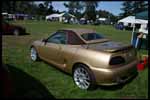 Loved to see this one in real life: the SuperSports
The Hog Roast, the MG bar in one of the marquees
Natalie, Cedric and David enjoying his meal
Impressive that ZR during the Glow Parade
Sunday, August 5th 2007
Wheel changing contest, Paul (fastest), Bruno, Fran, me and Cedric in action
Misc. cars
Trophies, words of thanks and a special MGFest celebration cake.
Monday, August 6th 2007
On our way back in the Eurotunnel
Participants of the mgf.be group
Luc & Veerle
Peter & Jarno
Bruno & Bruce
Cedric & Nathalie
Kasper & Marion
Jos & Nathalie
Fran and I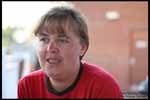 Without picture: Ad (and co-pilot), David & Annemiek, Paul