M E E T I N G : S i l v e r s t o n e 2 0 0 4 ( E n g l a n d )
A bit of a shame as I didn't kiss the holy ground of Silverstone, but I had such a good time I completely forgot.
Visiting the MGCC event at Silverstone is a must do for everyone owning an MG, so this year we went up to the North, took the risk to drive on the opposite side of the road and booked a nice Bed & Breakfast. Lots of 'MG stuff selling' - stands, car parks full of common and less common MG types, races and parade laps around the circuit, bad food but the company of a bunch of good friends turned my first MG Silverstone event in a perfect but too short holiday trip.
Anyway, here are some pictures . . .
Shalstone, the place where we found the perfect Bed & Breakfast location
Friday
@ Silverstone: couple of nice MGF/TF but the total amount of cars isn't that huge at all ?
'cause we're Belgians.... we need to try the chips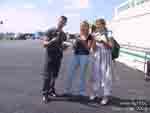 MG ZR Extreme on display (and yes, the bonnet is closed, although it looks like it isn't properly closed)
MG X-Power SV-R (gimme one... I'll take it although the baby blue color isn't my favourit)
New MG ZS
All kind of MG's (MG1100, RV8, ...)
Fat and Ugly (IMO): MG ZR with Mynheer bodykit
Monochromed MG ZT-T and MG ZT
MG ZR Rally car: clean me ! Please !!!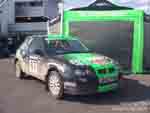 Unique MG Classic racers
And other MG racers
Saturday and Sunday
Silverstone @ Saturday
One famous MGF: Scarlet Fever
Golden Wheels @ Mike Satur's place (and Mike's own MGF)
Couple of mad photographers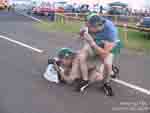 Our MGF at Silverstone
Nightfire Red MGTF and MGF
MGB Pickup (started life as an MGB GT)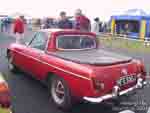 Very powerfull MGA
Leaving Dover