M E E T I N G : M G F T r e f f e n 1 9 9 9
(all pictures will be 1.03MB to download)
It was the first one organised by a few German F-chaps together with Ted Newman. Soon it became a tradition and well-known term on the BBS (www.mgcars.org.uk, then choose Bulletin Board). Some people are speaking about the Treffen, but didn't realise what the word ment (Treffen = German for Meeting). A perfect organisation in combination with a width scale of things to do makes this event so special. The whole trip takes more than a week, but you're free when to join and when to split from the group.
People from the UK were arriving in Ostend, the place where we were waiting for them. This TVR Griffith was travveling together with the other F's for the Treffen.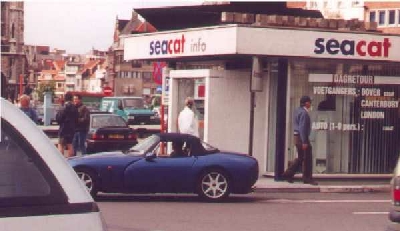 On Saturday we (Fran and I) joined Dirk, Luc and Fabrice to drive up to Dormagen, where the rest of the F-ers were waiting. One of the enthusiast was Andrew (better known as Scarlet Fever).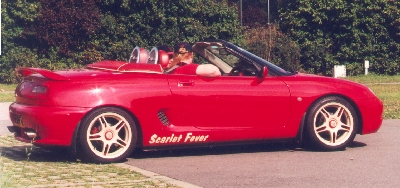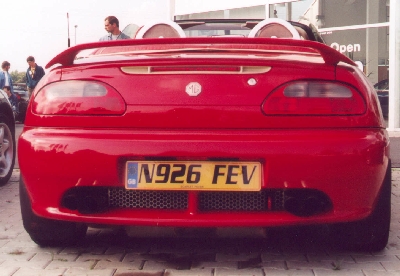 After a glimp at the pictures, I don't need to tell you that you need to see his car. It's low, makes a nice rumble, is highly modified and the owner is a *very* friendly chap, who can tell stories about his F for hours.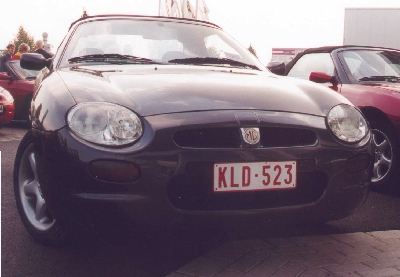 Above, a picture of the F of Fabrice. A charming young F-er from Belgium, who has some experiences with hydragas-failures. Note the tinted front indicators... in those days only one F had clear indicators on the Treffen, and it wasn't Scarlet.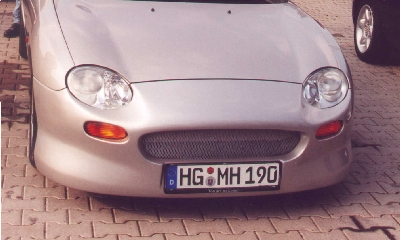 Orange indicators, tinted or clear ones, ... the most impressive front was this one. It looked good when it appeared in the rear view mirror, but is was a bit disappointing when the car was passing by. The front wasn't it harmony with the rest of the car. (Of course that's my opinion).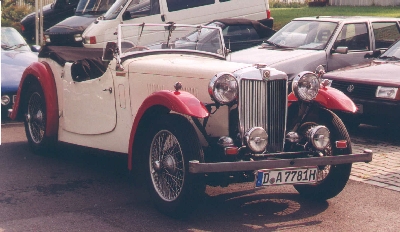 Talking about a bodykit huh.... This elder MG joined us in a trip around Dormagen.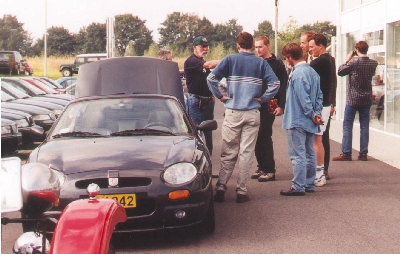 Well, this is what a Treffen is all about. Opening the boot, walking around each others car, checking the exhaust notes and having a big time with a lot of F-stories about all weird disasters and modifications.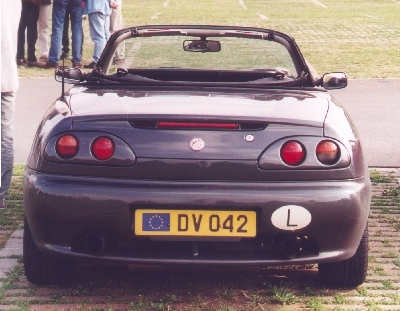 This Black Beast is (or was, at the point of creation of this site), the VVC of Dirk. A guy who certainly knows how to drive a sportscar (and I am not saying this car is a true sportscar), but unfortunatly he had to many problems with his F. He was one of the pioneers of F-tuning and moding the F.

Just a picture to prove it was a big succes. Don't know the number of F's that were joining, but as you can see it war rather impressive.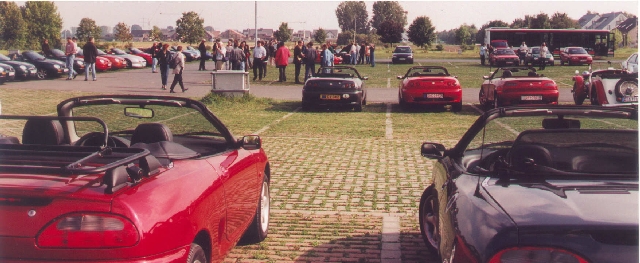 A demo-car of Chrom Design and two highly tuned and styled MX-5s were at the meeting to. Breajfast was hosted by the Rover dealer at Dormagen.
Great job, Dieter