M O D I F I C A T I O N S : EXTERIOR STYLING, Indicators
In this chapter we could be talking about two things, the side indicators and the front indicators. In the beginning, the F was launched with amber/orange colored indicators. The side indicators could easily been swapped with clear/white ones, often found in a store stocking Mini-parts. They were available for the Mini, and the F was using the same pair. Today, it's still advisable to buy Mini ones instead of the more expensive MGF ones, although they are the same.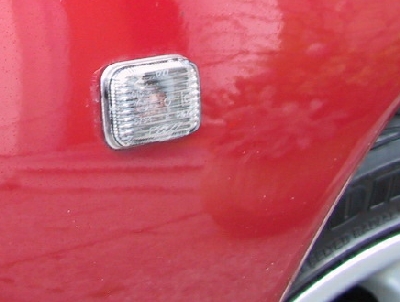 click here to load another pic of clear side indicators
For years we were talking 'bout clear or smoked front indicators and from time to time someone thought a production of those units could be reachable, but it all kept by dreams.... until the presentation of the new MGF, the MY2000 (or MkII).




2 * Amber coloured indicator, 1 * smoked clear indicator on a Nightfire Red MGF. Click here for a close-up



Amber colored indicators on a black/antracit MGF


Clear indicators in combination with painted reflectors.


Clear indicators on a Racing Green Metallic MGF


Something special here, Fabrice tinted his amber indicators with a black spray from FoliaTec.


Dieter invented something for nature-lovers, ... hehe
The MkII has standard clear or smoked indicators at the front. The funniest thing was that those indicators were ordered as spare parts long before the MGF MkII was available on the market.
When choosing for clear/smoked indicators, it is advisable to get the whole set together from MG Rover, by ordering it by it's partnumber (VUB105950). Due to a mistake... it will normally cost you only a £30-ish (plus VAT) for the two side repeators and the two front indicators.
If you aren't convinced yet... have a look at the following picture, showing a blue MGF with an amber and a smoked indicator fitted.