M O D I F I C A T I O N S: EXTERIOR, Rear Light Clusters
Let's start with a close-up of some standard rear lights clusters; seen on the MkI, MkII, Trophy, 1.6, ... even the first view on the MGF-X shows us the same rear clusters.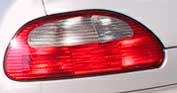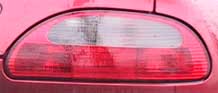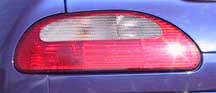 standard rear cluster of the MGF, seen on different colors of cars (Platinum, Nightfire Red, Amaranth)
The design changed slightly when the clusters were fitted to the MGTF. The smoked part is replaced by a clear or better white part, giving it a more modern, sporty look.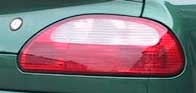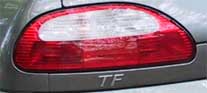 rear clusters of the TF (Le Mans Green, X-Power Grey, Starlight Silver)
For some of us, the standard rear clusters are just too Honda-, Nissan, Mitsu-, or Japan-ish. IMO they let the car look like the Peugeot 306 Cabriolet, a nice car, but it doesn't flatter the MGF.
So there are some options...
1) Mike Satur Quad Clusters
They are available since many years now, are still popular but not very common seen, which is nice IMO. From now and then you will find an F/TF with this set of rear clusters, but not every modded F is equiped with a set. They are still exclusive.
For some years they were avalable as MKI's.... fitting needed some body modifications at non visible parts. The indicators were located at the outside. Rear lights and brake lights were located at the inner side.



The MkI Quad Clusters from Mike Satur (Charcoal car)
check out some global views here
After a couple of years, the design was reviewed and the MkII cluster were available by Mike Satur. This set is much easier to fit (you don't need to modify the bodywork anymore, so put away that saw) and is often recognised by the position of the individual lights: the indicator has moved to the inner side.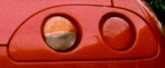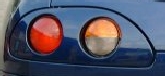 The MkII Quad Clusters from Mike Satur,
note the position of the two individual lightsin comparision
with the MkI clusters.
check out some global views here and some views at night here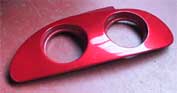 So fitting is rather easy, but requires you to reconnect every single cable. The existing plug (slides on the connector of the standard lights) isn't compatible with the connectors on the new light units. So remove them all, and start reconnecting every single cable.
An interesting (!?!) thing is that the used lights are originally from a Fiat Coupé, where they are mounted above each other.
It has been done before (Gerry H. very modded F has them), but is even less common than the Quad Clustered rear lights - Quad clusters fitted and removal of the seams. With the quad clusters fitted, it's still clearly visible that they do replace an original light cluster. The gap between bodywork and cluster can be rather large (especially if you compare it with the modern cars), so I wanted them removed.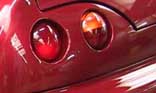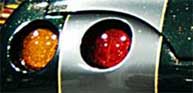 This is a job for professionals.
The guys from the bodyshop know how to fixate the clusters, which products to use and how to fnish it all smoothly. I am very pleased with the result, so would like to thank Carrosserie Ludo Faes (Boechout, Belgium) who fullfilled this job perfectly.
The seamless quad clusters in combination with a TF bootlid without the high level brake light (pictures by Fran, mg-rover.org forum)
Some have been thinking about it for a while... and here they are. LED equiped lights, which will fit the Mike Satur rear light clusters.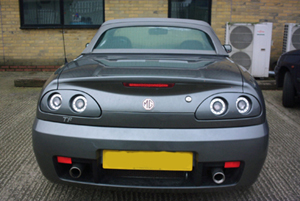 Description

Picture

Hella Red LED Ring:
Part of the Hella modular rear light system. 12 Volt Red LEDs in a sealed ring (£ 34.99 each)

Hella Modular Rear Light System:
Ring Diameter: 98mm, Lamp Diameter: 55mm, E approved
Red Rear Fog Light, £12.99 each
Clear Reverse Light, £12.99 each

Hella Modular Rear Light System:
Ring Diameter: 98mm, Lamp Diameter: 55mm, E approved
Smoked Indicator Light, £12.99 each
Clear Indicator Light, £12.99 each

Outer Rings:
Reflector Ring, £10.00 each
Chrome Ring, £15.00 each
source: Demon-Elite (http://www.demon-elite.com)
UPDATE: It must be said that a set of Quad lights fitted to your car is very sporty and stylish. Inspired by the SV and SV-R models David Peters is able to deliver a set of alloy rings that suits the quad lights very nicely. Allthough the following set of pictures is just a prototype fit, it allows you to see what these parts will add to your car. The pictures don't do any justice (it was too dark), so I am eager for a next photoshoot ;o)
2) Tinted Rear clusters from Brown & Gammons
'Alter the appearance at the rear of your car with 'blacked out' rear lamps. Lamps are supplied on an exchange basis. Please note: When operated, these lamps omit normal light, as per traffic regulations.'
Price: £70.50 (ex. VAT, for a set of 2); Stock No: BGF923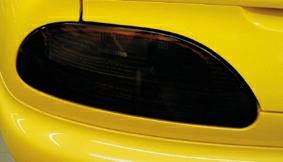 3) Anacconda-Tuning Lexus Style clusters (september 2004)
It took a while, but at last the popular style of rear lights become available for the MGF/TF as well. Although I am not sure they will become very popular in the MG scene, some modern stylers will definetly choose for them, helped by the attractive price tag (€ 179.00). They will be available in chrome look (see pictures) and in black (update of December). The black ones are slightly more expensive, with a price tag of € 184.00. They come with a TÜV approval and are E-marked.





click on one of the images to see them on the cars
Contact details:
Anacconda-Tuning
Gerastr. 14
53757 St. Augustin (Germany)
Tel: 02241 / 209205
Fax: 02241 / 396963
e-mail: info@anacconda-tuning.de
http://www.anacconda-tuning.de
4) Lexus Style lights from other sources