M O D I F I C A T I O N S : EXTERIOR, Spoilers
MG-ROVER
The one available as an option, rather expensive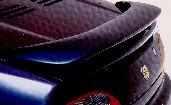 The one fitted to the LE Trophy 160 and the Freestyle version.
NOTE: allthough this spoiler was launched by MG Rover... the paintwork of it could get damaged by the antenna while opening the boot.



The Trophy spoiler in combination with the TF bootlid.... just made for each other, look at the curve.

The Mike Satur F-One boot spoiler in combination with a TF bootlid

The TF bootlid cleaned - removal of the HLBL (high level brake light)

A prototype, the Extreme carried this one

Another prototype, but a bit more to reality

MIKE SATUR

Makes the MG-Rover-like standard spoiler available for a lower price (£145, unpainted and without VAT, £230 painted, but still without VAT)
Aero: a small lip, which surrounds the high level brake light nicely

F-One: nice round, suits the overall lines of the F very well. Currently been revised by Mike Satur, but will be available again soon (£230 unpainted)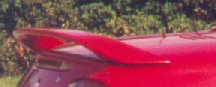 Prototype(?Le Mans?) of MS, didn't saw this one on an F though.... otherwise if the result was nice, I would have chosen this one.

BROWN AND GAMMONS
--under construction--
GERRY HIORN
This car needed a strong, impressive bootspoiler to match the car's overall look. So here it is.

SMITH AND DEAKIN
They are working on a Replica of the Trophy Rear Spoiler.
MOSS
--under construction--


MOTO-BUILD
The Moto-Build Racing rear boot spoiler was on special offer during last summer (2001) for £128 (+VAT)... but this price is still shown on their website (March 2002).

Moto-build also offers the MG-Rover genuine boot spoiler for £110 (+VAT), unpainted I suppose.
PAUL HINDLEY
Paul created his own one, looking very impressive. He told us that it doens't weight much at all. IMO, not the most stylish one, but it looks wel build, nicely finished and it is a spoiler, so it gets on this page.

ATC - RACING DESIGN SYNDICATE
ATC, located in Japan, distributes this spoiler of Racing Design Syndicate (Price: 50.000 Yen)


UNKNOWN
Unfortunatly I can not give anymore details about this one, 'cause I haven't got anymore details.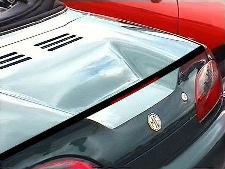 I am sorry, it looks like this page isn't finished yet.
I'll hope you visit the site once again to find
a more usefull page behind the link you have just chosen.