M O D I F I C A T I O N S : INTERIOR, Styling - Windstops
I must admit, it isn't really an interior item.... cause it gets important as soon as it gets out, when the sun is shining and the roads are winding ;-)
ANGLO-PARTS
Located in Belgium (Mechelen).... no more details about their windstop so far.
ARTRA
The MGF Foxster Roll windstop based on Don Liang Design's prototype.
Ordering can be done through Artra (Japan), although I think they are sold out.

Fitting can be done by some one who knows some DIY tricks and with the help of Dieters pages.... (http://www.mgfcar.de/roll_windstop/index.htm)

Price: £392.00, € 657.00 or JPY 68,000 (april 2000)

Looks 'almost' the same as Mike Satur's 'Boxer Roll Hoop' and vice versa. I am not the right person to claim something about being first and copyrights, etc... that's not my task. This is just a webpage giving some information.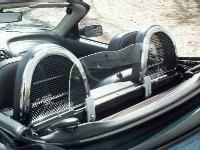 picture courtesy of Dieter K.
BROWN and GAMMONS (see NEWTON COMMERCIAL)
Nice, clean windstop .... nothing special, but working perfectly.
Compairable with the MG Rover and Chrom Design item.

Doesn't need any drilling while fitting.

Stock No.: BGF500
Price: £189.00
CHROM DESIGN
Looks almost the same as the MG Rover item, but more refined. No drilling is needed, but I can remember we needed to take the T-bar of the car, while installing the windstop (no problem with that). It works good...
Price: 165,00 EUR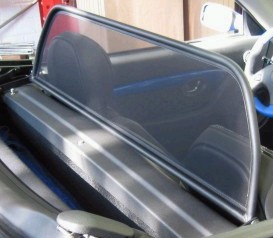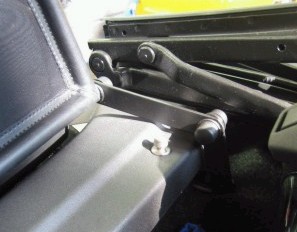 D&W
This German store/shop is selling a windstop for the MGF too. From the picture I've seen I could say that it is the same as the Chrom Design item, but I am not sure about that.
Order number: 302592
Price: 398.65 DM (year 2000)
MG ROVER
Although this wasn't ever listed as an option (in Belgium), the dealer could retro-fit this cabrio-needed item. The Rover item just looks like all the other traditional windstops.
During the years, at least two versions were used, let's call them Mk1 and Mk2 ;-)
The Mk1 windstop can be adjusted in height (after some work): remove the allen screw holding the bracket in place. The bracket is actually fitted with locator lugs that fit into the bottom frame member and is an extremely tight fit. It looks that there are three locator lugs fitted to the bracket fit into holes in the inner threaded section.
Fitting needs some drilling in the t-bar (see further instructions on Dieters site: http://www.mgfcar.de/windstop/index.htm). IMPORTANT
Catalog number: VQ100250 (???)
Price: £161.00 (ex. VAT, year 2000)
MIKE SATUR
In the past, Mike Satur did the FX Windbreak for more than 4 years. It was available in chrome (Billet Ali) and in black.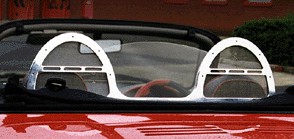 Now there's still the 'Boxer Roll Hoop Windstop' available. It's an item made in the UK, fits to every F/TF and doesn't need any drilling or modifications to the bodywork. As Mike's website says, it's made of high tensile steel tubes with a subframe, which effectively stiffens the bodyshell. If you want, it can be fitted by yourself in just 1 hour.
- Moulded urethane padding finished in Ash Grey leather as standard (other colours optional)
- Hoops available in satin black (standard) or any colour at extra cost
- Removable mesh available in choice of colours and finishes including chrome (black standard)
- Toughened, tinted glass windstop folds down and can be quickly removed when required
- Speaker mounts for 4" x 6" speakers included
Price: £180.00 ex. VAT, black hoops, no pads, no Windbreak Screen (see further)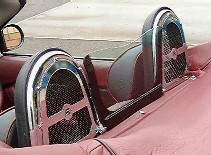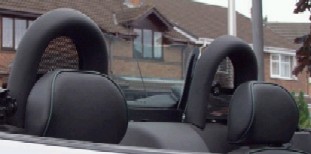 the Mk1 Boxer Roll Hoop with small "windbreak screen"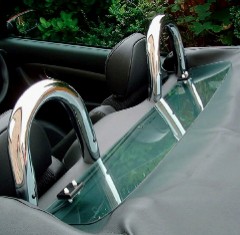 the MkII Boxer Roll Hoop with the full 'Windbreak Screen" (see further)
The Windbreak Screen could be fitted with or without the Boxer Rollover Hoops. As most windstops, it can be fold down when not needed.
It incorporates a tinted toughened glass screen mounted on precision machined aluminium hinges that literally takes 3-4 minutes to fit without any drilling or special tools, in fact all that is required is a pozidrive screwdriver. It is also easily removed without leaving any damage, of course the hood tonneau is unaffected and rear screen unzipping is not hindered.
The design of the Boxer Roll Hoop is slightly changed to have both compatible with each other.
Price: introduction price: £95.00 ex. VAT, from July 1st 2002: £107.00 ex. VAT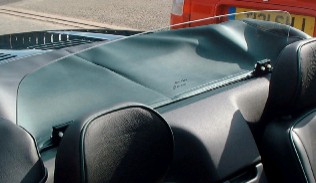 Mike Satur's Windbreak Screen
NEWTON COMMERCIAL (see BROWN and GAMMONS)
From the website: "The beauty of the Newton Commercial Windstop is in it's easy fitting and the price! Unlike others on the market, no holes need to be drilled anywhere, undo three screws and bolt the brackets in place. The Windstop folds backwards when not in use, can be easily removed for the winter and has a soft Vinyl binding round it's outer edge so it will not scratch your hood window. We have many satisfied customers to date."
Price: £127.65 (ex. VAT)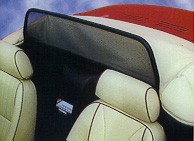 Windstop of Newton Commercial
A kind of a test with a rather strange lady was carried out by some enthusiasts. Read their comments on http://www.mgf.4mg.com/windstop_data.htm

I am sorry, it looks like this page isn't finished yet.
I'll hope you visit the site once again to find
a more usefull page behind the link you have just chosen.