M O D I F I C A T I O N S : ENGINE - Ignition Leads
A difficult start, especially when it's a VVC, at a damp, cloudy morning could be caused by a set of ignition leads in a bad shape. On the other hand, the plastic extensions on the leads which plug into the engine could get broken during the years.
Although new ignition leads are mentioned as a performance upgrade, I don't think the increase is really noticable. Of course a new set will perform better than a broken one.
Please note the difference between a set suitable for an MPi and a set for the VVC engine.
B R O W N & G A M M O N S
Ignition Leads 8mm High Performance 1.8
Part number: BGF752
Price: £ 42.51 (ex. VAT) or £ 49.95 (inc. VAT)*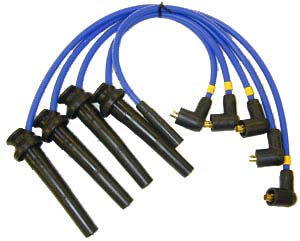 Ignition Leads 8mm High Performance VVC
Part number: BGF753
Price: £ 45.77 (ex. VAT) or £ 54.95 (inc. VAT)*
Ignition Leads 8.5mm Competition 1.8
Partnumber: BGF750
Price: £ 51.02 (ex. VAT) or £ 59.95 (inc. VAT)*
Ignition Leads 8.5mm Competition VVC
Partnumber: BGF751
Price: £ 59.53 (ex. VAT) or £ 69.95 (inc. VAT)*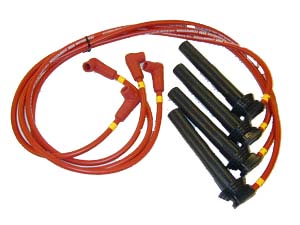 To help you visualise the differnce between the original leads and the 8.5mm units: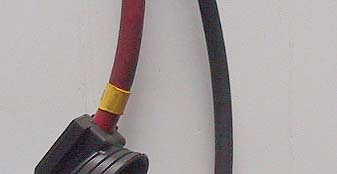 As the picture shows, the leads are made by Magnecor and easily numbered from 1 (top of the picture) upto 4 (nearest to the airfilter).

The easiest way to fit these leads is one by one. Removing an old one by replacing it with a new one. This procedure prevents a mix up at the
coil distribution.

Fitting them is easy, but it takes some time and patience to put the cables back in their guidance rails (especially the one under the inlet manifold is hard to use). A new guidance rail, used on top of the engine is supplied with the leads.

Fitting a new set on an MPi is easier as the cables are shorter and don't disappear under certain engine parts. They plug onto the distributor cap which is easily reachable.
*) Prices as provided in December 2003