M O D I F I C A T I O N S : TUNING, Exhaust Systems
I know, it's very weak that I haven't got this page finished yet. But maybe that's because so much data needs to be processed.
Anyway, I've allready have a list of systems available here
M O D I F I C A T I O N S : TUNING, Exhaust Systems - Parts
After the section about the silencers (hmm, maybe the wrong term used overhere), some words and pictures of the other parts of the exchaust system.
E x h a u s t m a n i f o l d :
Mike Satur
A nice combo, this flexi pipe and 4-2-1 exhaust manifold. Mike Satur claims (and he isn't the only one who is doing this for a 4-2-1 manifold) a power and torque increase with this system fitted... it would be nice to see some more exact figures from a rolling road session. Price: £399.50 (incl. VAT) or call Mike S.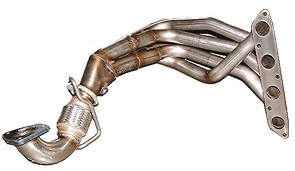 UPDATE - January 2005
"In conjunction with Piper Camshafts and Exhausts, we have revised the design for our sports manifold for 2005. An improvement over our old design, mandrel bent on CNC benders for smooth perfect bends without joints making it unique for this application. Great care and attention to detail makes this product the most desirable on the market. We have also revised the flexible connection with a larger bore to prevent restrictions. We have also incorporated brackets for the heatshield so fitting is very straight forward.The manifold will fit all models MGF or TF with or without aircon. Currently on offer at £325.00 plus VAT (£381.88)" (website Mike Satur)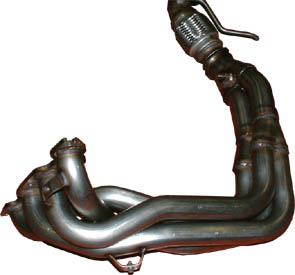 F l e x i d o w n p i p e :
Well 'cause it is flexible, it could wear out rather easily and it is one of the lowest parts under the body, so a victim for grounding.
There are a few 'after market' options if it needs to be replaced.
Mike Satur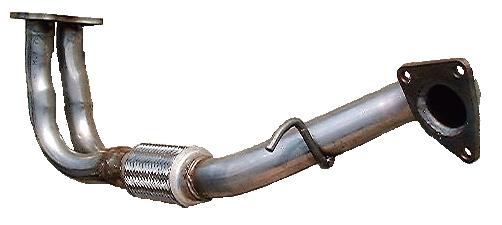 "The cost is less than the mild steel standard part and comes with a 3 year warranty at £138 (ex. VAT)". (website: Mike Satur)
Unknown
Found on a Japanese website the following double flexipipe.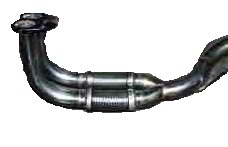 (http://homepage1.nifty.com/daitakei/mgf/f_modi/rd_downp.htm)
C a t a l i s t c o n v e r t o r o r C a t . b y p a s s :
separated page, click here
E x a m p l e s o f d B - v a l u e s :
| | |
| --- | --- |
| dB level | Example of a source |
| 20 | The sound of a ticking clock |
| 30 | Someone whispering at distance of 1 meter |
| 40 | A quite appartment, or paper making noises at 1 meter |
| 50 | A chat heard from 1 meter |
| 55 | Offices and airco's |
| 60 | Radio and TV at normal volume levels |
| 64 | Washing machines |
| 67 | Noisy Restaurants |
| 69 | Dish washers |
| 70 | Talking loud or a busy street |
| 72 | Vacuum cleaners |
| 78 | A workplace or a telphone ringing |
| 80 | A truck passing by |
| 90 | A train passing by |
| 95 | A chainsaw or disco |
| 100 | An engine without a silencer |

I am sorry, it looks like this page isn't finished yet.
I'll hope you visit the site once again to find
a more usefull page behind the link you have just chosen.