M O D I F I C A T I O N S : SUSPENSION -- Poly Bushes (I)
---> Polyurethane bushes -- part I <---
Polyurethane bushes -- part II
Polyurethane bushes -- part III
Polyurethane bushes -- part IV
The General Idea
The MGF's driving around aren't getting younger. The number of miles/kilometers are increasing on the dash, while the wheel-tire combination consumes every change in the road surface and keeps the car in the desired direction in a couple of hard corners.... after all that's the idea. Once you're into serious tuning, a perfect drive and setting up your F to perfection the worn, old standard rubber bushes are loosing their ability to keep the suspension components tight. It is like a set of shockers, after a while they need replacing too, as the road holding is getting worse every day.
Upgrading to a set of "polybushes" can be the way to go. 1) as these will not wear that quickly, 2) they are noticeble harder and are shaped to perform well on a drivers car. The downside of the story is probably the price.
Front
Shown below are the available Powerflex Polyurethane (PU) bushes, used in the front suspension. You can recognise them by the purple color. By far the easiest pair to swap are the ones keeping the anti-roll bar in its place (1 shown, at the lefthand side of the picture). The next bushes on your DIY list will be those from the anti-roll bar drop links (the two smallest on the picture below).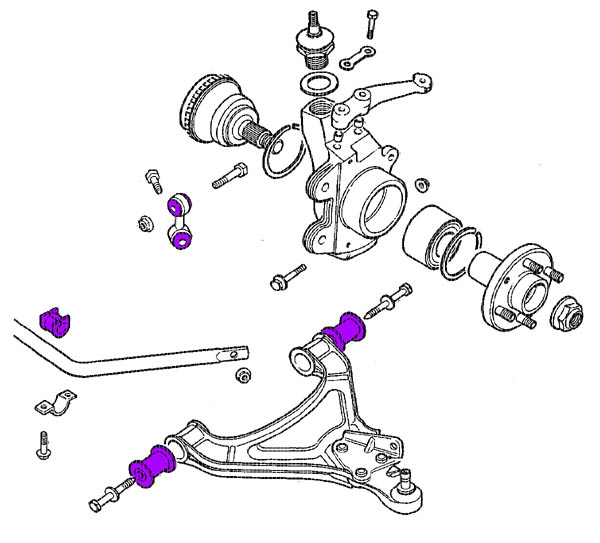 Rear
At the rear suspension, there's much more work to do. Luckily most of them can be changed by some DIY work. At my car, all the bushes were swapped by enthusiasts, except the small ones in the tie-bar (?) (the outer lefthand side of the picture). Loosening the het shield above exhaust is required, allthough you don't need ro remove the exhaust backbox. Again the bushes in the anti-roll bar drop links can be changed as well.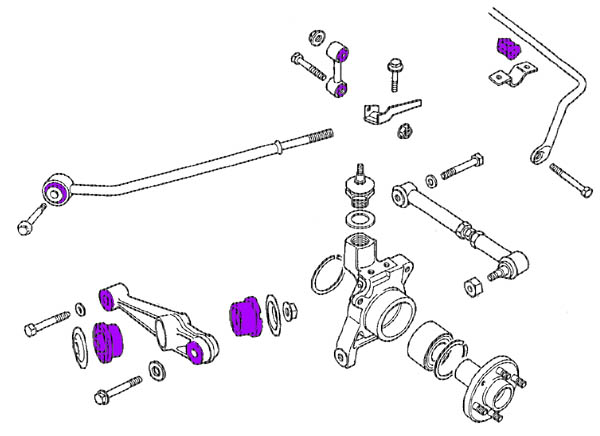 IMPORTANT NOTE: Use a torque wrench to tighten up the bolts correctly, and tightem them up when the car is not jacked up anymore.
click on a picture below, to have it enlarged.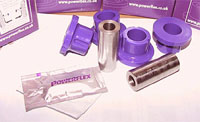 ---> Polyurethane bushes -- part I <---
Polyurethane bushes -- part II
Polyurethane bushes -- part III
Polyurethane bushes -- part IV