M O D I F I C A T I O N S : INTERIOR, Alloy parts
check the page about chrome parts as well.
1) A r m a t u r e n r i n g e . d e NEW
Around the instruments
They must be the first one to offer these to the F and TF owner and I guess it will become quite popular as they will ad a nice and stylish detail to the car. I have got my doubts about the skills required to install a set of these, but others have stated that it is straight forward. Price for the set: € 49,00 (incl. Mwst./VAT). Partnumber: MGFTR0305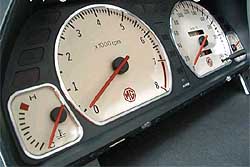 Around the Heater Controls
Set of three, can be used on the F and TF: Price: € 33,00 (incl. Mwst./VAT). Partnumber: MGFHR/1004
Contact Details:
Aluminium-Ringe
Hahnenweide 17d
47918 Tönisvorst
Tel.: 0 21 52 / 51 50 97
Fax.: 0 21 52 / 51 50 98
e-mail: info@armaturenringe.de
2) B r o w n & G a m m o n s
Although they don't really offer a lot of chrome parts, the choice on alloy parts is bigger. Let's have a look at which parts we could order at B&G.
Alloy Heater Knob Set
Three knobs per set, and it is important to let them know if you're driving an Mk1 or an Mk2.. The photograph below is from a MkII model. If your car is different from this it is a MkI model. MkI Price: £40.98 (ex. VAT) (for the set of three), (approx. €68.44); Stock No: BGF9020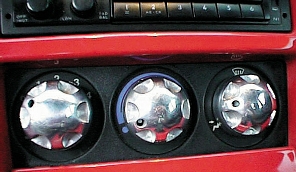 Looks like the same knobs can be ordered from Mike Satur.
Alloy Mirror Handles
Replace your standard mirror handles with these smart and distinctive polished and drilled units. Price: £40.98 (ex. VAT) (for a pair), (approx. € 68.44); Stock No: BGF9030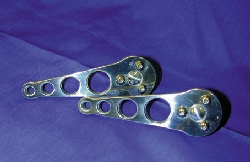 Strange, saw these ones as well in the brochure of Mike Satur
Alloy Speaker Covers
These highly polished speaker covers will definitely improve the interior look of your car.
1) FX: Price: £55.25 (ex. VAT) (for a pair), (approx. € 92.27); Stock No: BGF9001
2) Drilled: Price: £55.25 (ex. VAT) (for a pair), (approx. € 92.27); Stock No: BGF9002
1)

2)

Don't think there's any need to say that these parts can also be ordered at Mike Saturs
Polished Alloy Handbrake Button
Like the description given by B&G: 'A touch of class.'
Price: £6.50 (ex. VAT) (approx. € 10.86); Stock No: BGF9025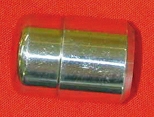 Alloy Door Button Escutcheons
These turned alloy finishers are supplied in pairs and add a touch of class to the interior.
Price: £14.78 (ex. VAT) (for a pair), (apporx. € 24.68); Stock No: BGF9031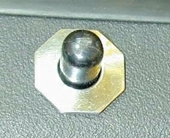 3) M G R o v e r
Alloy Heater Switch
A very popular item, or at least in the past, 'cause you could order them for a fiver. They went into back order, and now the prise went straight up. Time to call my dealer (not UK based, but located in Belgium) and see what price he could offer...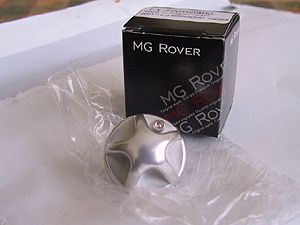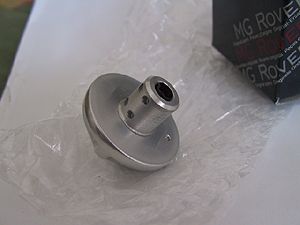 partnumber: JFD000020MAQ (one knob)
material: solid alloy (32g/knob)
price: € 6.98 (VAT inlcuded, Belgium, March 2003); £19.79 (United Kingdom, March 2003)

The one that was in back order arrived with a € 36.49 price tag. (April 2003)
4) M i k e S a t u r
Hmm, it's a bit embarassing, some of the parts shown at the B&G section can also be bought from Mike Satur.
Chequer Plate Footwells
' Manufactured from genuine aluminium 5 bar chequer plate specially for the MGF.Will never wear out!! Price is £49.99 (per pair, VAT incl.) ' (website Mike Satur)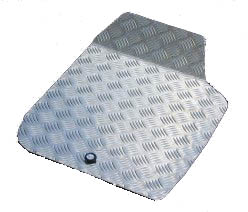 Aluminium Gear Gaitor top
This item sits at the top of the gear gaitor and is easily fitted. Mike Satur have manufactured this item in aluminium and can offer it it with a choice in two finishes: polished (bright) or anodised (satin). Price: £4.99 (£5.86 VAT included)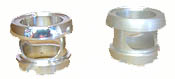 Brushed Aluminium Lower Door Trims
You know the lower end of the door where the soft black carpet is fitted. Wel Mike is selling a shiny plate for this part. Looks nice IMO. His promotional brochure is telling the following: "CNC machined from solid aluminium plate these stylish lower door 'kick plates' are very durable and easy to fit. Their finish is brushed anodised aluminium. Price: £38.00 (ex. VAT) (for a pair); partnumber: 3260
Aluminium Speaker Covers
As shown above, but Mike writes in his brochure that these polished items can also been ordered with an other finish, like brushed alloy or satin black. Price: £47.00 (ex. VAT) (for a pair); part number: 3300
Tweeter covers
Matching 68mm covers to fit Mk1 and Mk2 (?) models. These items are also avilable in two shapes: FX or drilled and with a choice of yjree different styles of finish. Price: £25.00 (ex. VAT) (for a pair); partnumber: 3320.
Aluminium Door Lock Pins and Escutcheons Set
"These stylish details finish off the door tops and compliment our other aluminium accessories". Price: £18.00 (ex. VAT) (for a pair); partnumber: 3190
Aluminium Mirror Adjusters
As shown above, but Mike explicit states that it is for Mk1s only. Price: £30.00 (ex. VAT) (for a pair); partnumber: 3200.
Aluminium Heater Control Knobs
As shown above, available for Mk1 and Mk2. Price: £35.00 (ex. VAT) (for a pair), partnumber: 3270 (MkIs) and 4490 (Mk2s).
Brushed Aluminium Heater & Switch Panel
These two plates fit around the heater control knobs and the buttons below. It enlightens the black fascia. Available for Mk1 and Mk2 cars, state if an aircon is fitted or not. Price: 2 x £13.00 (ex. VAT); partnumbers: 3280 (switchpanel, state Mk1, Mk2, aircon), 4320 (heater panel).
Several Aluminium Gearknobs
Aluminium Handbrake lever
Aluminium Handbrake button
Price: £5.95 (ex. VAT); partnumber: 3230
Aluminium Radio Trim (Mk2)
"This simple yet very effective item fits below the radio aperture on the Mk2 models and compliments the aluminium finish around the gear lever and door inserts. Price: £16.00 (ex. VAT); partnumber: 4480.