M O D I F I C A T I O N S : INTERIOR, Chrome parts
check the page about alloy parts as well.
One important place to go shopping if you want some chrome parts fitted to the interior of your F: Chromdesign (http://www.chromdesign.de). I first saw a car with bits and bolts from Chromdesign on the first German MGF Treffen. A few months later, I ordered myself a set of shiny things.

1) C h r o m d e s i g n
ChromDesign is a German company selling chrome and chrome-look-alike parts for some sporty cars, like the MGF. They are offering two ranges, namely chrome and polished parts. They look the same, but the parts with a chrome layer have a better quality.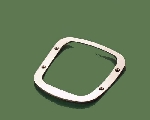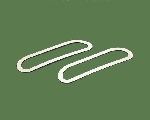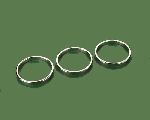 First of all we have a ring which needs to be mounted around the bag of the gear stick. The second picture shows us parts that will go around tha handgrips in the doors. The three rings from the third picture will fit nicely on the dash around the knobs (see also picture above).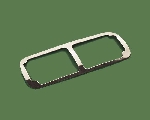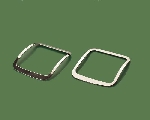 ChromDesign also offers parts that need to be glued around the airvents.
Click here to see the Chrom-Design parts in my car.
Update
(February 2003)

Two new parts from Chrom-Design
- facia for the instrument panel

- surrounding for the windscreen defroster

2) M O S S
Click here to see a rather large picture of the Chrome Ashtray like it is distributed by Moss.
3) B r o w n & G a m m o n s
As a well known dealer of all kind MG-parts, Brown & Gammons could not be Brown & Gammons without selling some chrome parts.
Chrome Ashtray
Replace your plain black plastic ashtray with this classic chrome item. Contains all parts needed.
Price: £44.94 (ex. VAT) (approx. € 75.05); Stock No: BGF1044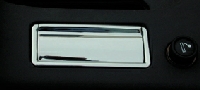 Chrome Handbrake button
Like it is promoted by B&G: 'A touch of class.' Price: £10.95 (ex. VAT) (approx. €18.29); Stock No: BGF9026
4) M G - R o v e r
MG/Rover sells the ashtray as well.
5) M i k e S a t u r
Chrome Heater and Switch Panels
"Brighten ups the center of your fascia with the addition of these chrome heater and switch panels. Available for Mk1 and Mk2 cars, with or without aircon fitted." Price: 2 x £13.00 (ex. VAT); partnumbers: 3590 (switchpanel, state Mk1, Mk2, aircon or not), 5000 (heater panel).
Chrome Ashtray
"Our Jaguar-style chrome ashtray is a far cry from the standard plastic item." Price: £48.00 (ex. VAT); partnumber: 3580.
Chrome Cigarette Lighter
"A highly polished chrome cigarette lighter which replaces the standard plastic item for that touch of class." Price: £34.00 (ex. VAT): partnumber: 4520.
"An easily installed billet aluminium cigarette lighter cover and button, nicely detailed with 8 dimples and machined rings to the body. Exceptional value at £18.00 (ex. VAT)"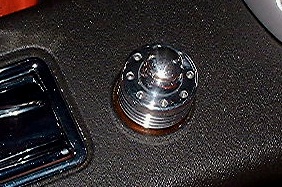 Saw the item in real life, and I must admit, it looks well good....
"Chrome" Gear Gaitor top
"This item sits at the top of the gear gaiter and is easily fitted. We have manufactured this item in aluminium and can offer this in a choice of finishes, a polished (bright) or anodised (satin)." Price is £4.99 plus vat (£5.86)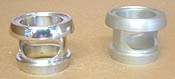 Text in between double quotes are taken from Mike Saturs promotional brochure or website.