M O D I F I C A T I O N S : ENGINE - FGA Motorsport Chip
FGA Motorsport -- add-on
Since 5 years FGA Motorsport is busy with engine preparations. They have chosen to install add-on, boxes to satisfy their customers in a fast and effective way. They are using Power Systems and became the distributor for them in the Benelux. To react on the still expanding market, they have chosen to develop and built their own boxes with their own mark.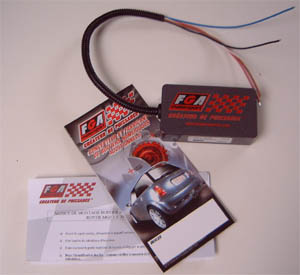 Gains stated on their website:
MGF 1.8 MPi: +14hp and +21Nm
MGF 1.8 VVC: +15hp and +22.5Nm
Parts and prices:
ESSMGF120 - € 380.00 (VAT included)
ESSMGFVVL - € 380.00 (VAT included)
small detail: they also do an add-box for the Lotus Elise 1.8 16V (+14hp, +21Nm) and this box gets a € 530.00 price tag (?!?).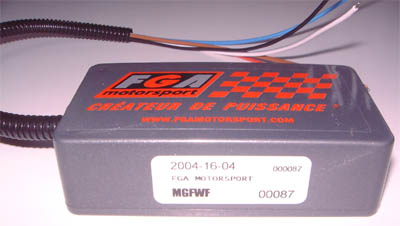 Anyway, we installed this add-on box onto a K&N 57i equiped MGF 1.8 VVC. FGA Motorsport's service helped us to get the setup correct. But once we had the correct diagram how to wire it up, a helpfull and technical guy at a dealership started cutting wires and soldering the box into the loom.
A little later the car started right up and a little testdrive proved there were definitly some gains in power and torque. Off course were not gonna estimate for any figures, but wiring up the box do improve the performance significantly. Somewhere in the future, the car will be put on a rolling road and a performance figure will be given for this 'cheaply tuned VVC' (K&N 57i, heat-shield, cat-bypass, FGA Motorsport box).
So to be continued . . .
Contact Details (and do mention this website or the name Bruno):


Mobitronics
Markt 45
2590 Berlaar
Tel.: (+32) (0)3 482 37 08
Fax.: (+32) (0)3 482 37 08
mobile: (+32) (0)475 86 11 05
e-mail: info@mobitronics.be
website: http://www.fgamotorsport.com
Fitting instructions of the FGA Motorsport Powerbox on a VVC
here
More about chips and ECU's
here