M Y O W N M G F s
Due to a silly accident, we lost our first MGF. It was a platinum colored 1.8MPi version with a black leather interior. It served us a plate full of excitement during the five months we owned it. Unfortunatly I haven't got much pictures of it. So don't rush to the section of crahsed cars, I haven't got a picture of it.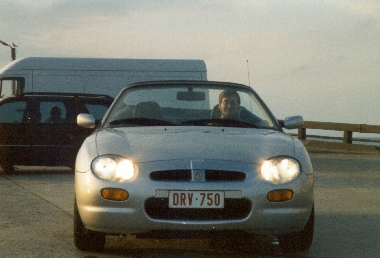 After a few months waiting, our new F arrived. This time it's an Nightfire Red one with a black leather interior. On this page you'll see a picture of it when the car was still like it was delivered. Many months later, the look has changed a "bit".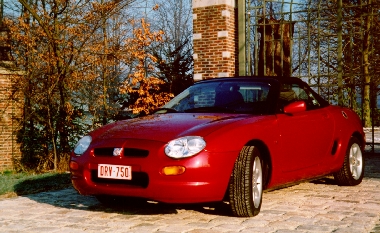 Nightfire red is a very special color... it can be really beautifull when the car is cleaned, polished and the sun is shining or when it is a clear day. But as soon as it is getting dark and orange Na-lamps are shining in the streets, the color of the car is a bit disappointing. And, I don't like the look of the car when it isn't really clean. Not really easy on todays road.
More pictures of the Platinum MGF More pictures of the Nightfire Red MGF