I would like to thank: Fran, Dirk, Luc, Andrew, Roger, Dieter, Rob, Ted, Fabrice, Bruno, Adrian and many
others I am forgetting now for all the info and help they supplied.

Linking the World of MG Cars Together
Previous Site | Next Site | List All Sites | Random Site
Add Your Site | SiteRing by Bravenet.com
YoYsearch
- a web portal with ten types of search
- - ---( NEWSFLASH )--- - -
March 10th 2010: Found a new model: the MGF Silverstone (was available in Switserland)
November 25th 2009: At last, pictures and info about the new TF 85th Anniversary LE.
July 2nd, 2008: NAC MG UK LTD set price for the MG TF LE500 (Press Release)
June 21st, 2008: I browsed my pictures and got some interior shots (part 1 & part 2)
May 10th, 2008: The Launch Date for the TF LE 500 officially announced (Press Release)
August 8th 2007: Added the pictures of MGFest 07 on this page
July, 13th 2007: AFirst NAC-MG UK franchise dealerships (Press Release)
June, 28th 2007: Added new pictures and the weigth of the Swedish MG Rover wheel (here)
June 25th 2007: NAC MG presents the TF LE 500 at Silverstone event (more here)
- - ---( Group Buy )--- - -

Important for Belgian and Dutch drivers:
Please contact
me
if you are interested in
an original MG Rover
warning triangle kit
.
I have some for sale, only € 9,00.
- - --- International MGF Kempenrit --- - -

August 22nd 2010
10th International
MGF Kempenrit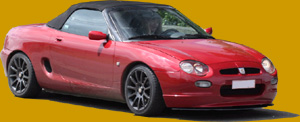 OUR NIGHTFIRE RED MGF
more info