M O D I F I C A T I O N S : EXTERIOR, Splitter
KH Assemblies Splitter
KH Assemblies Ltd., in the past known as Krafthaus Ltd. was probably one of the first who produced this kind of device for the F. It's very unique in its design and -even more important- it improves the handling of the car. A good setup of suspension geometry and ride height help a lot, but this device is a must have for handling. It's cheap, easy to install and is made in good quality.
It's available in carbon look or glossy black, directly from KH, but MOSS, PTP Ltd. and Brown and Gammons sell them too..

Some of the owners prefer to colour code it, or they paint it in a completely different color. It's all about taste.


The ground clearance doesn't decrease that much, but as this device is a bit sticking out in the front, the angle for going uphill decreases. Especially if the car is lowered you will need to be carefull driving up and down speedbumps, accessing underground parkings, etc.

Fitting is straightforward. Make sure the splitter is positioned in the middle, drill four holes (or use a soldering iron) and fix the splitter with the four bolts. (No need to remove the bumper, but get the car up, in a safe way) Click here and here for the location of the bolts.
Price:
Brown & Gammons: black £ 68.98 (VAT included), carbon: £ 89.98 (VAT included)
Power Train Projects: black £ 69.98 (VAT included)
Moss Internationam: partnumber MGF110, price unknown
Contact details:
KH Assemblies Ltd (Formally known as Krafthaus Ltd.)
Witherley House
Carlyon Road
Atherstone
Warks
CV9 1LQ
tel: 01827 720055
fax: 01827 720044
Smith and Deakin MGF Front spoiler (Trophy Replica)
Due to the number of pictures, I have devided this section into several pages.....
1) Set of first pictures, just after unpacking the item.
2) Fitting the spoiler... or trying to fit it.
3) I mailed Smith & Deakin with my complaints, added a set of pictures to it and they mailed me back with the following... talking about support, this is what I call Support with a big S.
4) ... and I got a new set of spoilers delivered free of charge.... so let's find some spare time to get one fitted to our F.
5) Trophy front spoiler together with foglamps ? YES
Price:
Smith and Deakin: unpainted £ 42.30 (inc. VAT)
Contact Details
Smith & Deakin Plastics
Unit 75 Blackpole Trading Estate
Worcester
WR3 8TJ
tel: 01905 458886
fax: 01905 458889
e-mail: information@smithanddeakin.fsnet.co.uk
website: http://www.smithanddeakin.com
Mike Satur, Brown and Gammons, ...
Well known Mike Satur did a front spoiler/splitter as well.Unfortunatly it disappeared from his pricelist, while Brown and Gammons still has it in their catalogue. Don't know who's the manufacturer.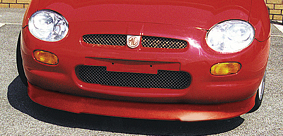 Price:
Brown and Gammons: primed: £ 124.95 (inc. VAT)
Mike Satur
Mike Satur does sell the Trophy front lip as well. It's reproduced in GRP and can be finished to choice of colour.
Prices:
Unpainted £65.00 plus vat, carriage and packing;
Painted: £150.00 plus vat.

Unknown
But seen on a Belgian Tuningshow