N E W S : Archive
Aug. 25th 2001: No news yet, except that this site has been brought online.
Aug. 26th 2001: Very important day and maybe the start of a real Belgian MGF community. 64 MGFs came together in Belgium to have a tour around the Kempen (an area in the North, North-Eastof Belgium). Your webmaster won the first price, a flight to London with VLM (Vlaamse Luchtvaart Maatschappij).
Aug 27th 2001: Updated the site with pictures of the First MGF Kempenrit (here). Added a counter to the page.
Aug 28th 2001: One picture of the MGF Kempenrit was unavailable, so I fixed that one. And added a new spotted MGF to the list.
Aug 29th 2001: Modified the pages of the Treffen 2000 and the Cup Cars. A brief description of a new restyled and more powerfull MGF is added, the possible MkIII.
Sep 14th 2001: MG Rover unveiled a new model at the Frankfurter Motor Show in Germany. The MG X80 isn't a roadster, but a Coupé. Not a coupé like like we know it, but a real sportscar with a might 4.6 liter V8 engine, producing from 260 upto 385hp. It will be available next summer.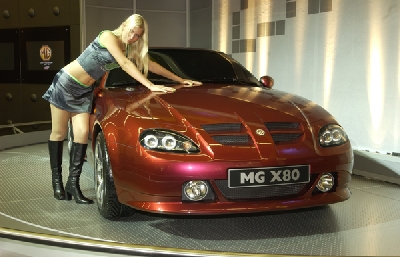 Sep 15th 2001: We joined the International Treffen for a tour around the Belgian Ardennes. A couple of pictures can be found at this location.
Sep 17th 2001: While uploading the pictures of the Treffen 2001, I'll add the list of exhausts with some according pictures and pictures of a rollover crash.
Sep. 24th 2001: 72 images were re-processed to limit their file size. This will make the site (or parts of it) easier to load. Especially people using an ordinairy modem are complaining about the bandwidth needed to browse this site. More work on this topic will be done the next days
Sep. 25th 2001: More than 400 hits since this site started. Off course events like the MGF Kempenrit and The Treffen helped a lot. Today I submitted the URL to a bunch of minor search engines, let's wait and see what kind of impact that will have.
In anyway, this kind of hits will help me to go one with the project. A major update is planned for October 8th 2001.
Sep. 25th 2001: Reported by JFK (Oxford) on the Bulletin Board: "Mike Satur plans to build an F with a 2.8 V6 producing between 195 and 250 bhp! The chassis, brakes and suspension will be modified and will be built to order with prices starting at £26,500. (MG World)."
Oct. 09th 2001: Reported by PistonHeads on their site:
Tactics key at sodden Brands Hatch
Anthony Reid gave MG Sport and Racing their first podium finish with a tactical drive to win the sprint race yesterday at Brands Hatch. Reid took the decision to remain on slick tyres when all other manufacturers opted to pit for wets. This outstanding result has been achieved on what was only the third outing for the new car.
Dick Bennetts, Managing Director of West Surrey Racing who run the car commented: "Incredible. Unbelievable. I couldn't have written a script any better. For Anthony to start from eighth and take a calculated gamble which paid off - incredible."
A delighted Rob Oldaker, Managing Director of MG Sport & Racing Limited. "I've been rehearsing this as I knew that one day this could happen. We expected to get a podium position before the end of the year and in fact we promised it but to do it this way absolutely fantastic. To get a win in the wet on this race - unbelievable."
Oct. 11th 2001: The Sunday Times reported at the weekend that MG Rover has warned its 6,000 strong workforce that they could lose their jobs if they do not accept new working conditions. The staff have agreed to pay increases but not to part of an agreement on flexible working.
Oct. 12th 2001: MG'S 'EXTREME' NEW ADVERTISING (found on the site of Sniff Petrol)
"Unbowed by a recent wrist slap from the ASA, MG-Rover is preparing its cheekiest campaign yet and Sniff Petrol has had a sneak preview. The new ads, designed to promote the forthcoming 'Extreme' MGs, are pretty extreme themselves! "Yea, and what you gonna do about it?" snarled Longbridge spokesman "Knuckles" McCabe. "We're not messin' about here. Know w'amean?" Advertising analyst Dom Dominic is intrigued by the new ads: "Here is a company that clearly has nothing to lose and they're being very brave in the communications material". He continued, "Please help me. John Towers is threatening to poke dog poo through my letter box if I don't say nice things about them."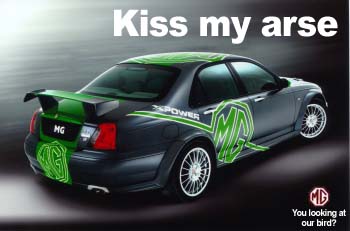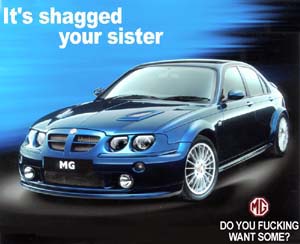 We put it to MG's representative that the company is resorting to any tactic they can to shake off the flat-capped image but he used some really bad swear words and then punched us in the head. Sniff Petrol made its excuses and left him to drown some puppies."
Oct 17th 2001: Small update of the site....
Added pictures of another crashed MGF (it was about time !!! 'cause I have those pictures for over a month)
Added three other spotted Fs to the list, with the counter on 26 now.
Oct 26th 2001: MG-Rover announces another Limited Edition of the F.
The special edition will be called "the MGF Freestyle special edition" and
will be available in 1.8i, 1.8i Stepspeed and 1.8iVVC versions, boasting a comprehensive
array of features designed to enhance the MGF's style and sporting characteristics.
Key Freestyle special edition features include:
* Distinctive 16" multi-spoke alloys
* CD tuner
* Black leather seats
* Rear spoiler (similar to Trophy 160)
* Front bib spoiler (similar to Trophy 160)
* Chrome exhaust finishers
* Freestyle rear badge
These features are in addition to the already high level specification: Driver's airbag, electric windows, electric door mirrors, remote central door locking
with superlocking, anti-theft alarm and immobiliser.
On-the-road prices for the Freestyle SE are:
1.8i Freestyle SE £18,295
1.8i Stepspeed Freestyle SE £18,495
1.8iVVC Freestyle SE £19,995
The Freestyle SE will be available in Solar Red, Tahiti Blue, Platinum Silver,
British Racing Green and Anthracite colours. Options include ABS (on the 1.8i),
passenger airbag, a body-coloured hardtop and metallic / pearlescent paint finishes.
Nov 29th 2001: Update of the site
I have added some info about the MGF Treffen 2002 and the French meeting calld Le Meeting.
Nov 29th 2001: Pistoneads reports "MG team up with Caterpillar"
MG Rover Parts, a newly formed company of MG Rover Holdings, has finalised its agreements with Caterpillar Logistics to build a world wide parts operation. The new company will open its doors for business in March 2002. The deal creates the infrastructure for MG Rover to fully develop the commercial benefits of its parts operation, which has an expected turnover in the region of £250 million. Unipart, which has supplied parts for Rover and MG cars since 1987, will continue to work alongside MG Rover Parts. It will provide 'legacy' parts, for cars registered prior to 1995 and its own 'All Makes' parts range. This, together with MG Rover's own bumper to bumper original range, will give MG Rover dealers an unprecedented parts choice from a single source, which covers over 100,000 items.
Dec 16th 2001: Two sections updated today...
1) Added the pictures of The F's which I took on our Citytrip to London (here)
2) Added pictures of the fitting of an Smith and Deakin MGF Front Spoiler (here)
Dec 22nd 2001: Added info and pictures about the KH Assemblies splitter. Updated the section of the Smith and Deakin Trophy Replica front lip as well.
Dec. 26th 2001: In the section Modifications, tuning - engines I added some info about the turbocharging provided by TurboTechnics. Updated some links as well.
Jan. 05th 2002: Well we are starting the year 2002 in a good way... MGR will announce details about the new MGF on January 8th 2002 and Jerry Flint has allready some details and a nice picture on his site. The car will be shown at the Brussels Motorshow. Click here for more details.
Jan, 11th 2002: Site has been hacked by revoR, they added pictures of the new MG-TF, which were previously published by the magazine CAR ;-)
Jan, 12th 2002: Added pictures of more crahsed MGFs and two other links.
Jan. 16th 2002: Added a part about brake pads (still to be completed), more details and pictures of the TF, and two additional pictures of Chris C.'s car. For the ones needing a lesson to drive safely, two other wrecks are added to the section of the crashed MGFs.
Jan. 25th 2002: Just added my set of pictures of the TF on the Brussels Motorshow. Worked a bit further on the section about brakes. Updated the Belgian page: For Sale and added two more featured cars.
Feb. 23rd 2002: Added some new links to the page with links. Updated the For Sale section, with additional adds and pictures. And finally added the official pictures of the MGTF to a Gallery (here).
Mar. 23rd 2002: The US Elise will not be using a K-series engine, but will be equiped with a 190bhp 1.8 litre Toyota VVTL-i engine.
Mar. 23rd 2002: The organisers of the Le Mans 24 Hours have announced their 50-car entry list for this year's event - and left several British teams sorely disappointed. The factory MG squad has been awarded just one entry for their rapid LMP675 class MG-Lola EX257, rather than the usual two-car factory team.
Complete Entry List:
LMP900 (19 cars)
Number Team Car
1 Audi Sport Team Joest, Audi R8
2 Audi Sport Team Joest, Audi R8
3 Audi Sport North America, Audi R8
4 Riley & Scott, Riley & Scott-Elan Mk3C
5 Team Goh, Audi R8
6 Team Cadillac, Cadillac LMP02
7 Team Cadillac, Cadillac LMP02
9 Kondo Racing, Dome-Judd S101
11 Panoz Motorsports, Panoz LMP-1 Roadster S
12 Panoz Motorsports , Panoz LMP-1 Roadster S
13 Courage Competition, Courage-Judd C60JX
14 Team ORECA, Dallara-Judd LMP
15 Team ORECA, Dallara-Judd LMP
16 Racing for Holland, Dome-Judd S101
17 Pescarolo Sport, Courage-Peugeot C60
18 Pescarolo Sport, Courage-Peugeot C60
19 MBD Sportscar Team, Panoz-Mugen LMP07
21 Team Ascari, Ascari-Judd KZR-1

LM GTP (1 car)
8 Team Bentley, Bentley EXP Speed 8

LMP 675 (6 cars)
24 Autoexe, WR-Mazda LM
25 Welter Racing, WR-Peugeot LM
26 MG Sport, MG-Lola EX257
28 ROC Competition, Reynard-Lehmann 2KQ
29 Noel del Bello Racing, Reynard-Lehmann 2KQ
30 KnightHawk Racing, MG-Lola EX257 ***

LM GTS (11 cars)
50 Larbre Competition, Chrysler Viper GTS-R
51 Larbre Competition, Chrysler Viper GTS-R
52 Equipe de France FFSA, Chrysler Viper GTS-R
53 Carsport Holland, Chrysler Viper GTS-R
57 Team Rafanelli, Ferrari 550 Maranello
58 Prodrive Allstars, Ferrari 550 Maranello
63 Corvette Racing, Chevrolet Corvette C5-R
64 Corvette Racing, Chevrolet Corvette C5-R
66 Konrad Motorsport, Saleen S7R
67 Konrad Motorsport, Saleen S7R
68 RML, Saleen S7R

LM GT (12 cars)
70 JMB Competition, Ferrari 360 Modena
71 JMB Competition, Ferrari 360 Modena
72 Alphand Adventures, Porsche 911 GT3-RS
73 Racesports Salisbury, Morgan Aero 8
74 Auto Palace, Porsche 911 GT3-RS
75 Orbit Racing, Porsche 911 GT3-RS
77 Team Taisan, Porsche 911 GT3-RS
78 PK Sport, Porsche 911 GT3-RS
80 Freisinger Motorsport, Porsche 911 GT3-RS
81 The Racers' Group, Porsche 911 GT3-RS
82 Seikel Motorsport, Porsche 911 GT3-RS
85 Spyker Automobielen, Spyker C8 Double 12


Invitation Class (2 cars)
DAMS, Panoz LMP-1 Roadster S
DAMS, Lola-Judd B98/10

Reserves
20 Multimatic Racing, Panoz-Mugen LMP07
27 MG Sport, MG-Lola EX257
59 Prodrive Allstars, Ferrari 550 Maranello
83 Seikel Motorsport, Porsche 911 GT3-RS
76 Orbit Racing, Porsche 911 GT3-RS
79 PK Sport, Porsche 911 GT3-RS
April 16th 2002: MG POWER CART (http://www.pistonheads.com)
MG Rover Group has confirmed that it has signed an agreement with CART Inc. to supply engines to the international Championship Auto Racing Teams for the 2003 series.
The "XV" power unit is being developed by Engine Developments Ltd and MG Rover, and uses basic architecture from the existing JUDD V8 and V10 engine family. The V10 version powered the winning car in this year's Daytona 24 Hours race. The extensive re-design currently being undertaken on the V8 will effectively produce a brand new engine which is at present unique in having been designed specifically to suit the CART 12000rpm rev limit regulations for 2004, in addition to other requirements for performance in the region of 700bhp.
Engine Developments Ltd of Rugby has over 20 years experience of race engine design, development and maintenance and in more recent years has forged relationships with customers from the Formula 1 arena. Commenting on the agreement John Judd, Engine Developments' managing director said: "As a British engine manufacturer, we are delighted and very proud to be associated with MG Rover, one of Britain's best known and admired car companies. MG has a long and successful tradition that is second to none, in fact my first car was an MG TA! It therefore seems very natural to renew my association with the company, and we look forward to a long and successful partnership with MG in the CART series. I am sure both our companies will benefit from our participation in the series, and that we can maintain and extend the traditions of the famous MG name"
All engines will be branded with the MG Sport & Racing banner 'MG XPOWER' and cars will carry the famous MG logo. On announcing MG's increasing involvement in the motorsport scene Rob Oldaker, managing director, MG Sport & Racing said: "I am delighted to be involved with the USA's premier motor racing series and our association with the highly successful Engine Developments Ltd will enable the MG brand to be once again brought in front of the thousands of fans who follow the CART series. This complements our European Motorsport activities and will allow MG XPOWER to be become truly global".
April 17th 2002: 1.5 million of the good, the bad and the ugly (click here for more)
MG Rover has now built over 1.5 million vehicles since production began in 1924. The 1.5 millionth car is a new TF 160. In celebration of Queenie's Golden Jubilee, it is painted in 'Jubilee' Gold and finished with special Jubilee badging.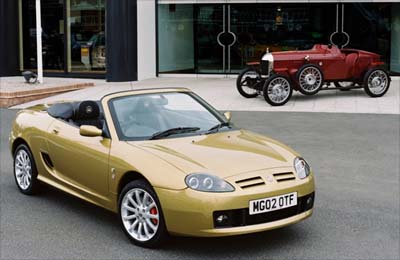 In 1977 a similar project produced a specially prepared MGB GT finished in blue paintwork with Silver Jubilee livery, to celebrate the Silver Jubilee. This car was sold, with proceeds raising money for charity.
Modern MGs include:
| | | | | |
| --- | --- | --- | --- | --- |
| MG cars | Produced | Saloon | Roadster | Total |
| MG TF | 2002- | | 4,027 | 4,027 |
| MG ZT (Saloon & ZT-T estate) | 2001- | 5,760 | | 5,760 |
| MG ZS (5dr & Saloon) | 2001- | 8,392 | | 8,392 |
| MG ZR (3- & 5-dr) | 2001- | 14,195 | | 14,195 |
| MGF | 1995-2001 | | 77,269 | 77,269 |
| MG RV8 | 1992-1995 | | 1,983 | 1,983 |
| MG Maestro Turbo | 1989-1991 | 504 | | 504 |
| MG Montego Turbo | 1985-1991 | 7,276 | | 7,276 |
| MG Montego EFi | 1984-1991 | 34,476 | | 34,476 |
| MG Metro 6R4 | 1985-1986 | 205 | | 205 |
| MG Maestro 1600/2.0 EFi | 1983-1991 | 47,914 | | 47,914 |
| MG Metro Turbo | 1983-1990 | 21,968 | | 21,968 |
| MG Metro 1300 | 1982-1990 | 120,197 | | 120,197 |
| MGB GT V8 | 1973-1976 | | 2,591 | 2,591 |
| MGC/GT | 1967-1969 | | 9,002 | 9,002 |
| MGB/GT | 1962-1980 | | 513,276 | 513,276 |
click here for more

June 17th 2002: MG dream ends at Le Mans. (original: http://www.mg-xpower.com/lemans/page.asp?menu=28&news_id=39536)
Following MG's return to the Le Mans 24 Hours in 2001, MG was back at the classic event this year with high expectations. Having qualified sixth and twelfth overall on the grid, first and second in the LMP675 class, they performed in the race at the highest level, challenging the more powerful LMP900 category favourites.

From the very beginning of the race, the two MGs displayed significant pace, consistently leading their class and competing with the fastest cars on the circuit for a significant period of the race.
The first disappointment came after midnight on lap 129 when the car 26 (driven by Anthony Reid, Warren Hughes and Jonny Kane) retired with transmission failure, when running strongly in 4th overall.

MG car 27 (driven by Mark Blundell, Julian Bailey and Kevin McGarrity) carried on relentlessly through the night gaining positions and by early morning having completed two thirds of the race period suffered an engine problem on lap 219 - with no warning.
Commenting on MG's return Rob Oldaker, managing director, MG Sport & Racing, said: "Our ultimate aim when coming to Le Mans this year was to complete the race. We clearly made improvements over last year and have shown that the MG Lola EX257 is capable of performing with the fastest cars in the race. We are bitterly disappointed that we've not made enough progress in durability and reliability sufficient to complete 24 hours of hard racing. The drivers have done tremendously well to keep the cars in such good shape during the race and to keep the pressure on. A true team spirit with MG, CMS, Lola and AER pulling together was incredible and with the enthusiasm from fans and our sponsors was phenomenal."
The private team KnightHawk Racing didn't had more luck with their MG Lola EX257. A fire broke out, while M. Hawkins was driving at night down the Mulsanne straight. The car was out immediately and the American team went home disappointed.
Race statistics:
Rtd. 27 Bailey/Blundell/McGarrity LMP675 MG Sport and Racing MG Lola EX257 219 laps 1850.55miles
Rtd. 26 Hughes/Kane/Reid LMP675 MG Sport and Racing MG Lola EX257 129 laps 1090.05miles
June 21st 2002: Spark Models do the MG Lola models
Just discovered that the MG Lola EX 257, driving at Le Mans 2001 are available as 1:43 scale models from Spark Models.
The 2002 models will be available from October 2002. Price will be around € 50.00 (Belgian Press) or $ 29.95 (website: https://secure.724storefront.com/fastonecollectibles.com/store/agora.cgi?product=mg).
More info at http://www.sparkmodel.com/collection-mg.html