N E W S (new style: most recent news on top of this page)
June 13th 2004: MG at Le Mans
This year only one MG (or better Lola MG) at the start of the most famous endurance race, the 24 Hours of Le Mans.
Bad news just after noon as the number 25 quits the race due to engine problems.
More news on my page about the MG at Le Mans 2004
May 20th 2004: a Hell of a Start
I know, it has been taken some time before I updated this News page, but ..... here it is: a new News Item, combining the latest news items related to this site and MG-Rover.
1) The MG ZT/MG ZT-T has been restyled (pictures ZT, pictures ZT-T, press release)
2) The MG ZS has been restyled (pictures, press release)
3) The MG ZR has been restyled (pictures, press release)
4) The MGTF LE 80 Anniversary is still on sale
5) Our MGF suffered from its second HGF (Head Gasket Failure) and the darkside is using its strongest forces
6) We ordered a PTP RT-Sport 165 kit to be fitted to our MGF (while the head is of ...)
7) After 11kms of miserable driving and being unable to start our F, the car is towed to the garage again (new starter motor)
8) YES, at last: our F is starting again AND driving again
9) Added a page about other ECU's and MEMS (here)
10) The MG Car Club Antwerp (MGCCA) has a new webite (here)

November 1st 2003: New wheels and something called a 'Spicy CityRover'
1) To be able to fit larger brakes onto our MGF, I've decided to swap my wheels for a nice set of VVC alloys. It was made possible by Bruno, who bought the alloy cup wheels of Fabrice. Pictures will follow soon, as expected I think.
2) Just read on the website of Auto Express that MG Rover are thinking about and developing a sporty CityRover. As the more sporty versions of the Rover range have an MG badge, this small one could get one as well. Allthough no name is known yet, some rumours are speaking about ZQ, ZA and Z-City.
links:
picture on the Auto-Express website: http://www.autoexpress.co.uk/picture_library/dir_24/car_portal_pic_12170.jpg
full story on the Auto-Express website: http://www.autoexpress.co.uk/?news/ae_news_story.php?id=41246
October 19th 2003: Site update
Wohow !!! It looks like I lost this page out of sight... many things have happened since July 21st. To name a few:
- 3rd MGF Kempenrit (Belgium)
- International MGF Treffen
- MGCCA (MG Car Club Antwerp) celebrated their 25th birthday
- Launch ZT and ZT-T 260
- New TF Special edition: the Sunstorm
July 21st 2003: Smokkelroute tour or another update to the site
It's a bit quite with updates to the site... but this small event yesterday was great. More pictures can be found here.
July 13th 2003: Rover showing a look-a-like 4x4 (pistonheads)
The current craze amongst manufacturers for jacking up their cars and slapping swathes of grey plastic over them has finally reached Longbridge. Since MG Rover regained its independence it has shown an aptitude for taking its basically dull cars and injecting a bit of pizazz to cater to modern tastes. The MG versions of the saloons have done wonders for the company's image. Have they gone a step too far with this one? The MG 'Streetwise' is very much in the mould of the Audi Allroad and Volvo's XV. Where Audi and Volvo claim that the 4 wheel drive makes their cars genuinely useful as well as a suburban fashion statement, MG are unashamedly just making a fashion statement.
The Streetwise adopts an 'urban tough' look that more and more people are craving - usually in the assumption that tough looking cars are safer in the even of an accident. Robust moulded bumpers, wheelarch extensions, rubbing strips and roof bars complete the external makeover. Colour coding will be available on some trim levels. They've even modernised the Rover badge in an attempt to make it appeal to younger generation. Wheels are 15 inch steel or fancier models will get 16 alloys. Ride height appears to be raised for no reason other than it looks cool.
June 17th 2003: MGTF Cool Blue SE
Looks like MG-Rover were waiting for these high pre-summer temperatures as they released a second special edition of the MGTF, called "MGTF Cool Blue". More on this in the models section here.
June 2nd 2003: I just want this problem to be solved
Since last summer, our F is struggling with an intermittent problem: read more about it on this page.
May 26th 2003: Roll-over hoops for the TF (pistonheads)
MG XPower are now flogging roll over protection hoops for the TF. The XPower Roll Hoops, designed by MG Sport & Racing, offer additional protection in the event of a roll and MG claim that they don't intrude greatly on interior space. Operation of the hood isn't affected. They are available in a variety of body coloured finishes as well as a "Hi - line" version in stainless steel. The Roll Hoops have been designed so that the existing hood can be operated without modification. The hoops add more safety protection to a car that has already come up trumps with class leading scores in the Euro NCAP safety tests. The Roll Hoops can be ordered from MG Sport & Racing. (Tel: 0121 482 2790 or 0121 475 6217 quoting part number VUB003300MKW) The supply only cost is £280.59 (VAT and UK P&P incl.) or £339.34 (VAT, supply and fitment incl.).
May 21st 2003: MG Car Club Mayflower MG Trophy at Spa Francorchamps (B)
Just noticed today (thanks to a posting on the English BBS) that the 'MG Car Club Mayflower MG Trophy' will be visiting the famous circuit of Spa-Francorchamps. We've seen this kind of cars (MGF Cup Car) before in Spa, during one of the Treffens, so it is with big enthusiasme that I will be visiting the Spa Euro Race on June 7th and 8th.
Tming:
- Saturday June 7th 2003: 13.45 - 45.15: Qualifying
- Sunday June 8th 2003: 12.30: Race for 20 minutes and 1 lap
The Mayflower MG Trophy consists of three classes – MG TF Cup, MGF Trophy and MG ZR, which contest over a total of 11 rounds on some of the UK's premier circuits and for the first for 2003 the series will visit Spa Francorchamps, Belgium. A 'Driver of the Day' will be awarded at each round and the highest points scorer across all three classes will be crowned 2003 Champion.
More info about the timing of the event: http://www.race-rally.be/2003/spaeurorace2003/timing/Default.asp

May 19th 2003: MG Rover increases production of MGTF
Good news: MG-Rover increased the number of produced MGTFs per week as a result of the increased demand. The TF isn't only the best selling sportscar in the UK, it is also the best selling sportscar in the Netherlands. The sales figures reached a new height during March since the launch of the new roadster. The figures were even better than the ones of the MGF. So the production went up with 130 units resulting in a stunning 430 cars per week.
May 18th 2003: Two updates
Explored the limits of my technical skills and installed Mike Satur's Slick Shift Kit by myself (well with a little bit of help). So this results in an how to page about installing a Slick Shift. I also made a small selection of the pictures of the MG Castle Days.
April 29th 2003: Again an update
Although I've got enough work to do... again some updates for this site. That's probably the reason why I have too less time to sleep. Anyway:
- Added some galleries of crashed, damaged MGF's (here)
- Added engine and transmision specifications for the standard MGF 1.8MPi and 1.8VVC.
April 25th 2003: Time for some updates
Good weather, a couple of meetings, too much work to do... many reasons why a serious update takes so long.
Anyway, did you know that:
- the price for the alloy heater knobs raised from € 6.98 to € 36.49 ? Even worse, it raised while I had one in back order.... the dealer told me I don't need to take it, and he wanted to take the others back if I wanted.... naahhh, you won't be selling those beauties for € 36.49 to someone else while you're paying me only € 6.98.
- it may be the first time that I start complaining about a personal F problem in this News section. But it is a terrible annoying problem and the technician of my prefered dealership can not solve it. They tried to solve it, but failed... leaving me with a € 642 bill for a new (second hand exhaust manifold) and oxygen sensor (€ 300.00). Their reaction: "Yeah, it was broken anyway, so..."
- there are very serious rumours that MG-Rover will have a set of rollover hoops as an option for the TF.
- it was about time that I updated the "Spotted" section (here)
- another set of "F to TF"-pictures have been uploaded (see Featured Cars, Chris)
- MG-Rover Antwerp (Boomsesteenweg) are having an MG weekend this weekend.... well I didn't knew that either, allthough I bought two F's overthere.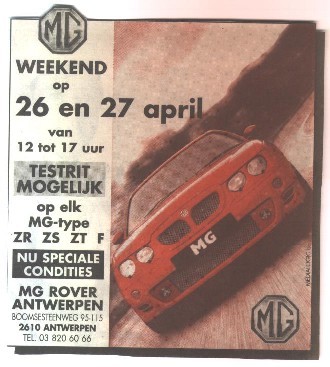 April 17th 2003: MGTF Castle Days presented by MG-Rover Belux
Yesterday morning I received a mailing from MG-Rover Belux with an invitation for a TF happening in the neighbourhood of Brussels. On Saturday May 19th and Sunday, May 11th 2003 MG-Rover invites us in two castles a few kilometres from Brussels for a exclusive presentation and test drive of the MGTF. More info on this website soon, or visit http://www.barnes-richardson.com/customers/mg/nl/
April 3rd 2003: ICT is sponsoring the Kempenrit
Great news for the organisers of the Kempenrit, one of the most famous MGF happenings in Belgium.
ICT (Interior Car Tuning, see Styling, Interior, Leather) will be one of the sponsors of this event.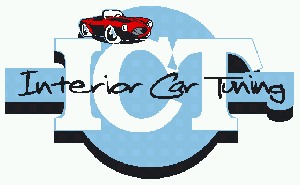 April 3rd 2003: MVR front bumper
Added a set of pictures of a very special F, with nice wheels and ... the MVR nose job.
I've seen this front bumper in real life, and recently received an e-mail with an F and this MVR bumper.
Click here to check it out.
March 19th 2003: Update of the site, at last ;-)
The weather is perfect for the time of the year.... top down driving is needed, so is a small update of the website.
New to the site is:
- MGCCA at the Belgium Classic Motorshow in Antwerp (here)
- Pictures of the TF SE Elegance (here)
- Update on several pages (i.e.: wheels)
March 12th 2003: More Powerfull MG-ZR and ZS
In Belgium future customers of an MG ZS or ZR can choose between two diesel versions: 101 bhp or 113 bhp (260 Nm). The more powerfull version is new to our market. Top speeds will be 185km./h for the ZS and 189km/h for the ZS.
Prices ZR: € 18,080 (inc. VAT) while ZR 100: € 17,780 (inc. VAT)
Prices ZS: € 19,520 (inc. VAT) while ZS 100: € 19.220 (inc. VAT)
March 1st 2003: TF wins top New Zealand Award
The MG TF has been voted Performance Car of the Year by New Zealand's Driver Magazine.
Selected for its "truly sporting chassis and brisk performance", Driver Magazine said that it "really liked the MG TF and found it both fun and a serious performer". The MG TF beat the HSV/Monaro, Maserati Coupe/Spyder and Mitsubishi Diamante Ralliart.
Allan Dick from Driver Magazine commented: "The MG TF 160's new suspension set-up, improved body torsional rigidity, more powerful engines and attractive new styling were key influences in the judging panel's decision to vote the TF Driver Magazine's Performance Car of the Year."
March 1st 2003: Free insurance
MG has introduced free insurance on its ZR models, aimed at getting more young drivers in its cars.

February 21st 2003: MG-Rover - What's next ? (Pistonheads)
They've done well so far, but does the future hold much promise?
There's news today that MG Rover's board of management are thought to have given their stamp of approval to a plan to take over the former Daewoo plant in Poland. If the other parties involved agree with the final details then MG Rover could open up in the East.
You might think it's good news that our last remaining mainstream manufacturer has expansion plans. We've also heard that they're in talks to produce rebadged Rovers in the Far East. All good stuff - expansion worldwide, Rover back on track etc.
But perhaps not. Rovers produced under licence in the Far East would be badged as Protons - losing out on the branding power that would help rebuild the marque.
Opening up in Poland raises only one question - why? The answer has to lie in production costs. Selling cars to the former Eastern Bloc may be a nice sideline but the primary reason for slapping together Rovers near Warsaw must be financial.
So where does that leave Longbridge? The factories are still leased from BMW and dwindling sales in Europe aren't a good sign. Like any business, keeping costs down is essential, as well as worrying about your sales strategies. Are we about to see the wind down of Rover in the UK?
Whilst we can congratulate the Phoenix consortium on the rebirth of MG Rover, I worry that the company's long term future isn't looking so bright. MG's rebirth has been a credit to their marketing department, with Rover's drab products given new zest and credibility thanks to some wacky colours, new trim and a new feel-good factor surrounding MG.
The mad MG SV looks like a success, and will do more good for the brand as a whole, but financially it's a drop in the ocean.
What next though? The new small car is being imported from India. Rover's next genuinely new model - the TCV - is a wierd looking car showing little of Rover's current brand identity. The development of that car has also been hit hard by TWR's demise.
A move to Poland might reduce costs, but new car development is horrifically expensive. Can MG Rover afford to replace their current range of cars with credible alternatives - or just rebadged tat from elsewhere? The future isn't clear.
February 17th 2003: Poor start for MG Rover (Pistonheads)
MG Rover got the year off to a bad start with their sales in January down over 35% on last year.
February 5th 2003: MG show & Spares Day (Feb. 16th)

The International MG Show and Spares Day is organised on February 16th 2003. You need to be in the National Agricultural Centre where the doors will be opened at 10am and close again at 4pm.

The usual stuff will be there: trade stand and autojumble, club displays, cars for sale, ...

Entrance at £7.50, accompanied childeren under 16 years come in for free.
January 30th 2003: MGTF scores very well during Euro NCAP test
The MG TF - the UK's best selling sports car - has come top of the class in the Euro NCAP safety tests. The car has achieved an excellent four-star occupant safety rating complemented by a class leading three-star pedestrian protection score. All other sports cars registered just a single star! (more info at the page of crashed MGF/TFs: here)
January 27th 2003: New Metro
MG Rover get Indian Takeaway MG Rover's new small car will arrive in the UK later this year. Due to go on sale later in the summer, the spiritual successor to the awful Metro will be built in India. The Tata Indica will be rebadged as a Rover and sold around Europe as well as the UK. The 1400cc petol version will boast around 70bhp.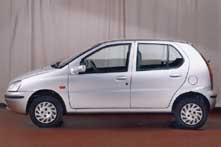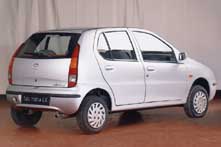 more info at:
Official website: http://cars.telcoindia.com/newindicav2/
German review: http://www.auto-news.de/auto2/ta00indi.htm
January 19th 2003: Very special MGF for sale at Houtem (NL)
During a fair in the Netherlands I saw a very special F for sale. It's a platinum one with the nice set of fogs, smoked indicators and black window surround, so an MKI. Wrong, 'cause a but further you will notice the light brown MkII interior and it is a Steptronic, so this must be an MkII. Wrong again, build date was somewhere in 1998, so too early for the MkII....
The owner explained that the car was an offcial testcar of MG-Rover, sold to the public by mistake. The car is filled with things proving this is a testcar. The owner has a fully documented map about this car. Very interesting.
If interested, reasonable offers are in the €25,000.00 area.
January 17th 2003: New MOSS Catalogues

Moss, famous for supplying parts to MG enthusiasts are about to launch two new parts catalogues. The comprehensive new guides will cover the MGB and the MGF.
The MGF section runs to 40 pages and is split into seven sections: Interior, Exterior, Performance & Tuning, Workshop & Tools, Car care, Indoors/Outdoors, and, Service Parts & Books. It includes everything from new alloys and handling products to the complete range of parts needed to convert your MGF to MGTF body spec.
The catalogues are free to owners (from 20th January), as is despatch within the UK. A small charge is made for overseas addresses.
And off course next month some products will allready be featured on this website.
December 2002: Old Number One will visit Antwerp
In 2003 the MG Car Club Antwerp will be celebrating their 25th birthday. Therefor they wanted to do something special during the Oldtimer fair in March 2003 (Bouwcentrum Antwerp). The first MG, called 'Old Number One' will be a part of the MGCCA stand on the fair.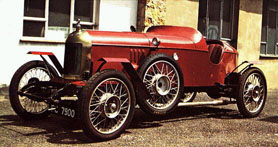 December 17th 2002: Special Edition TF available in Belgium
The magazine British has an article about a Special Edition of the TF, the MG TF Elegance.
The TF135 will have the following options as standard:
- Royal Blue metallic or British Racing Green
- Dark Blue or Green hood
- 16 inch square spokes
- Foglamps at the front
- Alpaca & Tan Leather pack (light brown)
- Wood in the centre console, door panels and steering wheel
- Chrome pack
Price of this car: € 25.500
December 13th 2002: Time for some updates
More than a month ago since the last update... you could start thinking that the winter season has kicked in.
Anyway, updates can be found at:
- Styling, Interior: Leather (here)
- Details, Cooling (not too much, here)
- For Sale (always usefull to get an idea about the current prices, here)
- Tuning, Engine, Throttle Bodies (small addition, here)
November 3rd 2002: The LMP675 MG Sport and Racing MG Lola EX257 in Paris
A few weeks ago I visited the Salon d'Automobiles in Paris and found this beauty at the stand of MG-Rover.
This car competed during the 24 Hours of Le Mans, but didn't last the 'double clock around' (129 laps 1090.05miles).
November 2nd 2002: MG XPower SV... an evolution of the X80
Oh my God... that X80 looks damn good and impressive. MG-Rover revealed their new high performance car at the British International Motor Show in Birmingham. Some press pictures and more info can be found on this page.
October 19th 2002: MG Gear up for assault on Rally of GB (http://www.pistonheads.com)
MG Sport & Racing Limited announced a new driver line -up for the Rally of GB, which takes place November 14 -17.
Two Super1600 rally cars have been entered into the Network Q Rally of Great Britain. The first being entered by Gwyndaf Evans and Chris Patterson started their campaign in January with the opening round of the Junior World Rally Championship in Monte Carlo. Since then the duo have also com peted in selective rounds of the Pirelli British Rally Championship where they have achieved third position overall.
Ex-Formula One / Indy Car driver and MG Sport & Racing ambassador Mark Blundell, will pilot the second of the Super160s. Mark, has twice driven for MG in the famous 24 -Heure Du Mans race and is relishing the chance to get behind the wheel of MGs pocket rocket. Looking forward to his debut and the November rally Mark said: "Rally GB is going to be a very exciting challen ge for me. It's quite daunting, but I can't wait to get in the MG and give it a crack. I'm planning to do a couple of stage rallies in the coming weeks to prepare myself for the big task ahead, but I know that this is certainly going to be a very tough event."
Two additional Group N MG ZRs will be entered in the hands of Tony Jardine and Rob Gill. Tony has previously competed on a number of occasions in the MG ZR and on his most recent outing achieved fourth in Class.
Last but by no means least will be the second of the Group N cars driven by Rob Gill. Rob, who is assistant sub-editor for The Sun. He commented "It's like a Sunday league player stepping out in the FA Cup Final against David Beckham."
October 19th 2002: changed X80 at the Birmingham Motorshow
MG Rover Group has announced that its new high performance sports car will be revealed at the British International Motor Show in Birmingham on October 22, 2002 at 10.30am.
The X80 concept was received a luke warm reaction when first unveiled so now the car has been re-designed, is lighter and has increased levels of power. Targeted at the driving enthusiast, the car is said to have extreme levels of performance with great potential for both road and track.
In addition to some other surprises, also being launched at the motor show are a number of special edition cars that have been produced in collaboration with the UK's top girl band Atomic Kitten and leading fashion designer Mathew Williamson. Atomic Kitten will attend the motor show on press day.
Throughout the show MG Rover Group will be selling cars from their stand. To tempt visitors to the National Exhibition Centre, a number of new car special offers will be made available.
October 18th 2002: MG Fellow married
David from Elversele, an MG-F-ellow got married today with his charming girlfriend Annemiek. All parts were in time to use their F (with completely new interior) for the wedding. Congrats again for both of them.
September 24th 2002: MG sells on the Net
MG Rover Group has announced that it is to diversify its UK sales channels with an initiative to sell its cars on the Virgin Cars' website as well as through its dealerships. For Virgin Cars, this provides their first direct car supply partnership, enabling them to buy UK stock directly from the factory.
Virgin Cars will offer a variety of MG and Rover cars from the MG range to the executive Rover 75 on its website, including details of delivery dates and prices that will start from £11,500. This is in line with other savings that Virgin Cars offers, and represents a saving on UK list prices.
When the order has been taken the car will be delivered to a MG Rover dealer who will be responsible for preparation, delivery to the customer and a comprehensive after sales service. (http://www.virgin.com/cars)
September 18th 2002: MG in San Remo Rally (source: Pistonheads)
Gwyndaf Evans off to Italy Following their success in the Ulster round of the Pirelli British Rally Championship, Gwyndaf Evans, Chris Patterson and the MG ZR are heading for the penultimate round of the Junior World Rally Championship in San Remo. The MG ZR, entered by Gwyndaf Evans Motorsport, will compete in the Super1600 Class on the tarmac stages of northwest Italy. Encouraged by his recent class win Gwyndaf said: "We're very excited about having done so well at Ulster but we know we have to step up another gear for San Remo where we'll be competing at World Championship level. Ulster has left us with a good feeling and I'm really looking forward to the next event. The MG ZR is getting better by the day."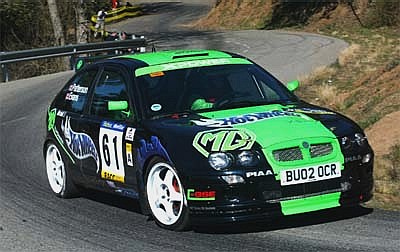 His regular co-driver Chris Patterson will accompany Gwyndaf. He added: "After such a great result at Ulster we're really glad to be back on tarmac in Italy. It's a brilliant rally and the atmosphere really makes it. I can't wait to get there and hopefully come away with a good result."
The rally activities (excluding JWRC) of MG Rover Group are now run from its Longbridge headquarters under the supervision of the MG Sport & Racing managing director, Rob Oldaker. Commenting on the San Remo Rally he said: "Naturally I'm delighted for MG, Gwyndaf and Chris on their success on the Ulster Rally. San Remo will provide some stiff competition for the car in what is essentially its development year. I wish the team every success."
September 14th 2002: Podium in Ulster Rally (source: Pistonheads)
Gwyndaf Evans and local co-driver Chris Patterson put in a sterling performance in the Pirelli British Rally Championship round at Ulster at the weekend to put the MG ZR on the podium.
After the first day (6 stages) the pairing lay 2nd in the S1600 Class and 13th overall. It wasn't all plain sailing as the MG ZR experienced an engine misfire on the opening three stages. Repairs took place during the scheduled service stop and from then on in Evans was up on the pace for the remainder of the rally eventually finishing 2nd in Class and 5th overall.
Commenting on the success Gwyndaf said "It was a very happy weekend for me and MG. We experienced a few problems early on but everyone worked so hard to get it right and we were able to take on the PBRC Ulster in style. Just what we needed."
The other MG ZR entry of Rob Stone achieved a Group N3 Class win to place him second in the championship. Rob commented "The car handled brilliantly on the undulating lanes which were made even more treacherous with torrential rain. We had to conquer many hazards over an eventful two days including crashed cars and loose sheep! Hopefully I can do well in the Trackrod Rally later this month to take the top step of the podium."
August 9th 2002: MG Rover cut their losses In the year to 31 December 2001 Phoenix Venture Holdings Group, which includes MG Rover, Powertrain, XPart, MG Sport and Racing and MG Rover Property made a loss before goodwill and tax of £(187) million. This is good news though! It represents a further halving of the annualised loss for 2000 (circa. £(380) million), which in itself was half of the level of operating losses incurred in 1999 (circa. £(780) million) - the last full year of BMW control. They're getting there...
July 31st 2002: It has been a long time since I uploaded a new version of this site, but I have been busy, wghile others are enjoyinh their holidays. Anyway, added some new parts to several pages (esp. brakes)... mainly comming from Mike Satur. Have a look around.
July 2nd 2002: Allready a Special Edition of the TF on the market
As from the press release:
Release immediate
Tuesday, July 2, 2002
NEW MG TF SE WITH SPRINT FINISH
MG cars are responding to the demands of the summer's open top motoring season with a new, high specification MG TF SE Sprint. Designed to appeal to MG customers who want the combination of high specification, attractive pricing and an element of exclusivity – the MG TF Sprint is expected to be a popular fast selling model.
The MG TF Sprint is derived from the popular MG TF 135 and MG TF 160 with enhanced features that include: Gunsmoke Alcantara and black leather seats, Smokestone interior colourway on the fascia and door panels, a coloured hood, chrome pack, front fog lights and on the TF 135 models the Sports Pack 2 (ABS, uprated 304mm front disc brakes and callipers and 16" eleven-spoke alloy wheels – already standard on the TF 160). The overall package provides a combination of sports, styling and comfort features.
The popularity of the MG sports car continues in the new MG TF. Launched in January 2002 following the successful MGF, the TF has already won the hearts of many owners with nearly 4,000 sold in the UK to date.
With an on-the-road price of £18,495, the MG TF 135 Sprint represents £2,375 worth of options for the additional £1,250 of pricing, over the standard TF 135. The more powerful MG TF 160 Sprint at £20,495 represents £1,275 worth of options for £500 of additional pricing over the TF 160. Only 600 MG TF Sprint models will be produced in five colour combinations.
| | | | |
| --- | --- | --- | --- |
| Exterior Colour | Interior | Seat Trim | Hood Colour |
| Solar Red | Smokestone | Gunsmoke Alcantara/Black leather | Grey hood |
| XPower Grey | Smokestone | Gunsmoke Alcantara/Black leather | Grey hood |
| Starlight Silver | Smokestone | Gunsmoke Alcantara/Black leather | Blue hood |
| Le Mans Green | Smokestone | Gunsmoke Alcantara/Black leather | Green hood |
| Trophy Blue | Smokestone | Gunsmoke Alcantara/Black leather | Blue hood |
Option Availability
| | | | |
| --- | --- | --- | --- |
| | Price | MG TF 135 Sprint | MG TF 160 Sprint |
| Passenger airbag | £275 | O | O |
| Metallic paint | £345 | O | O |
| Pearlescent paint | £345 | O | O |
| Kenwood std radio/cassette | NCO | O | - |
| Upgrade radio/cassette | £100 | O | NCO |
| CD tuner | £165 | O | Standard |
| CD/MP3 tuner (TF 135) | £295 | O | - |
| CD/MP3 tuner (TF 160) | £130 | N/A | O |
| 6 disc autochanger | £250 | O | O |